Griot's Garage 3' Glass Polishing Kit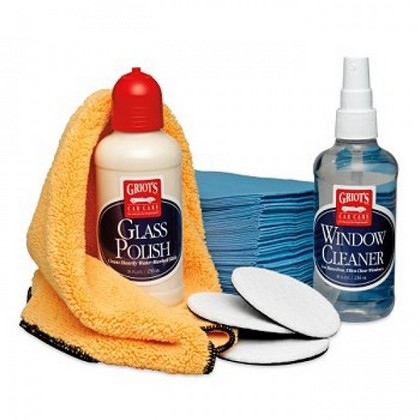 Description



Fits On:
Universal
About this Manufacturer:
Griot's Garage is a brand that is synonymous with obsession. The owner of the company is a self-professed car aficionado, who was shocked at the lack of quality detailing products for quality automobiles. Like the ambitious perfectionist he is, Mr. Griot decided to being making his own car-care products. Not every car junkie is willing to go to that sort of length. Mr. Griot is a true car-guy.

The reason Griot's Garage is so well-received amongst automotive enthusiasts is because they are constantly striving for improvement. Improvement is where they find endless amounts of inspiration and their quality is a fortunate byproduct. Griot's products will, when properly applied, make your car look "showroom ready".
About this Product:
Griots Garage 3" Glass Polishing Kit Enjoy Crystal Clear Glass With Our Easy To Use Glass Polishing Kit A dirty, water-spotted windshield is a pet peeve of mine. Not only unsightly, it can be a dangerous problem when the sun is low and you're trying to drive. How about those spotted windows around your home? Are hard water deposits on your glass shower doors looking ugly? Enjoy crystal clear glass with a kit that includes: 8 ounce Glass Polish, three - 3" Glass Polishing Pads, a Micro Fiber Polish Removal Cloth and an 8 ounce Window Cleaner. I've also tossed in fifty Lint Free Towels! Use it by hand with our elastic back holder or with our time saving 3" Random Orbital.

» SITE CENTERS



» LINKS



» POWERED BY









CURRENT VEHICLE
Pontiac