Griot's Garage 3 Wax Removal Bonnets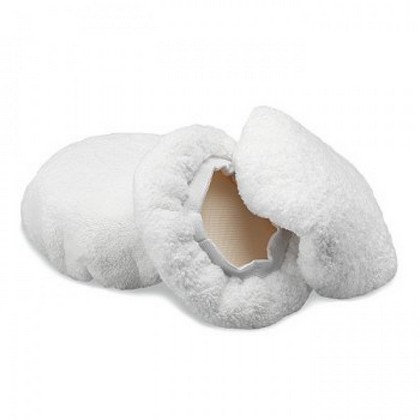 Description



Fits On:
Universal
About this Manufacturer:
Griot's Garage is a brand that is synonymous with obsession. The owner of the company is a self-professed car aficionado, who was shocked at the lack of quality detailing products for quality automobiles. Like the ambitious perfectionist he is, Mr. Griot decided to being making his own car-care products. Not every car junkie is willing to go to that sort of length. Mr. Griot is a true car-guy.

The reason Griot's Garage is so well-received amongst automotive enthusiasts is because they are constantly striving for improvement. Improvement is where they find endless amounts of inspiration and their quality is a fortunate byproduct. Griot's products will, when properly applied, make your car look "showroom ready".
About this Product:
Griots Garage Three Wax Removal Bonnets Save $7.98! Finally, A Fast And Safe Way To Remove Polish And Wax With Our Orbital Machine System For years you've been asking for a way to get wax off your paint's surface by machine. (You don't know how long I've struggled with this.) It wasn't until I started testing micro fiber cloth for wax removal by hand that it hit me; I ought to modify the fibers and structure to get it to work with our Random Orbital Machine System. I'm happy to say this bonnet works great, and I believe it is the best solution to remove wax by machine. One note of caution: you may mistake it for cotton terry, however it is a lot softer and the wax doesn't load up on this micro fiber Wax Removal Bonnet as it can with a cotton terry bonnet. I've found that cotton terry, when loaded up with wax under machine conditions has a cutting action that is not good for paint. The other significant difference is that you can take your hand and ruff up fibers when you are done with a panel to reveal fresh fibers for the next panel of wax removal. For those of you that have been waiting years for a safe way to remove wax by machine, here is finally a process that removes the wax quickly, easily and leaves your arm fresh for other things. It takes off about 95% of the wax, for a final detail and enhanced clarity just spritz the surface with Spray-On Wax and buff out with our 100% Cotton Buffing Cloths or our Micro Fiber Cloths. Made exclusively for us. Reduce your elbow grease! Do not use on orbitals other than ours with 6" pads or damage can occur due to heat build up. The Removal Bonnet requires a backing pad and works best with our Blue Support Pad.

» SITE CENTERS



» LINKS



» POWERED BY









CURRENT VEHICLE
Pontiac