Mastercool 5.0 CFM Two-Stage Deep Vacuum Pump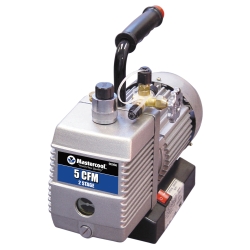 Description



Fits On:
Universal (All Vehicles)
About this Product:
Features and Benefits:

5.0 CFM 2 stage deep vacuum pump is lightweight and portable
•Manifold valve isolates system for leak check providing complete protection from oil contamination
•Gas ballast prevents oil contamination
•Internal check valve to prevent oil blowout
•Powerful 1/3 hp 110 volt motorHigh efficiency two stage deep vacuum pump with an ultimate vacuum of 25 microns. Manifold valve isolates pump from the system when testing for leaks. Gas ballast to prevent oil contamination and internal check valve to prevent oil blowout. Three inlet port sizes 1/4" , 3/8" SAE and 1/2" ACME. Easy access oil fill port. The unit has a powerful 1/3 ;HP ;110 volt motor.

» SITE CENTERS



» LINKS



» POWERED BY









CURRENT VEHICLE
Pontiac