Mastercool Heated Diode Electronic Leak Detector With UV Light And 10 Application Dye Kit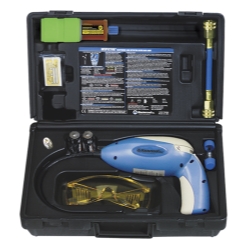 Description



Fits On:
Universal (All Vehicles)
About this Product:
Features and Benefits:

Digital micro processor controlled Heated Diode leak detector
•Includes complete 10 application UV kit
•UV light incorporated on tip of leak detector
•Operating temperature 32F to 125F
•3 year, 1 year over the counter warranty. Lifetime warranty on heated sensorThe heated diode electronic leak detector has a flexible 15" probe and a patented UV blue light built into the tip allowing dual UV and electronic leak detection. This unit also includes an additional 5" flexible probe adapter for leak detection in smaller diameter areas. There are six sensitivity levels, automatic warm-up, and a reset function. It includes rechargeable Ni-MH battery that last for 8 hours of use, and a 10 application UV dye kit with dye, dye applicator, UV glasses, hose, fittings and service labels.

» SITE CENTERS



» LINKS



» POWERED BY









CURRENT VEHICLE
Pontiac