Actron Professional Compression Tester Kit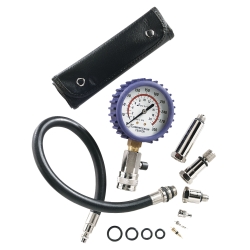 Description



Fits On:
Universal (All Vehicles)
About this Product:
Features and Benefits:

•Easy-to-read, 2-1/2" professional gauge with heavy-duty rubber boot
•0-300 psi/0-2100 kPa scales for accurate measurements
•Bourdon tube movement for accurate readings
•Handy tool pouch, repair kit, and instructions included
•1 year warranty

The professional Compression Tester measures cylinder compression to accurately diagnose engine condition. It is compatible with all standard spark plug threads. Product has quick disconnect coupler that separates hoses from gauge for faster, easier connections to the engine. Also includes push button side release valve that allows repeated testing without disconnecting. Kit includes the following adapters for all standard spark plug threads: 10mm, 12mm, 14mm, 14mm long reach, 18mm. Repair kit includes valves and rubber O-rings. Illustrated instructions included.

» SITE CENTERS



» LINKS



» POWERED BY









CURRENT VEHICLE
Pontiac