Schumacher Electric 2.4 Watt Solar Charger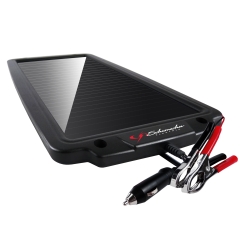 Description



Fits On:
Universal (All Vehicles)
About this Product:
Features and Benefits:

•2.4 watts charging for 12V batteries
•Rated for Indoor / outdoor use
•Complete with battery clamps and 12V plug
•Amorphous Technology allows charging on cloudy days
•Environmentally safe and no power required

Solar powered battery charger and maintainer. Up to 2.4 watts of charging power even on cloudy days. Mounting screws provided. Dual adapters for connecting to a battery or to the 12V port on a vehicle. Easy to use and can be left on for extended periods to maintain a battery in top condition.

» SITE CENTERS



» LINKS



» POWERED BY









CURRENT VEHICLE
Pontiac