Schumacher Electric 225/60/402 Amp Automatic Wheel Charger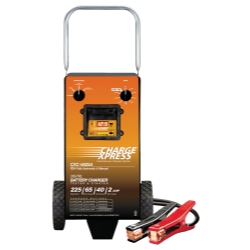 Description



Fits On:
Universal (All Vehicles)
About this Product:
Features and Benefits:

•Micro Processor controlled, fully automatic operation
•225 amps engine start, 65/40/2 amp charge settings
•Multi-purpose LED display for voltmeter and ammeter
•Measures battery voltage, alternator output and starter draw
•Designed for charging and testing 12V battery and systems

Will charge both AGM and lead acid batteries. Unique Wheel Charger with 225 amps of engine starting assistance and charging rates of 65/40/2. Designed for charging and testing 12V batteries, alternators and starters. Digital display displays volts and amps plus charge time. Heavy Duty Cables and Clamps with tall wheels and sturdy steel chassis make this a great charger for any shop.

» SITE CENTERS



» LINKS



» POWERED BY









CURRENT VEHICLE
Pontiac