Quayside Publishing Handbook Hot Rod Horsepower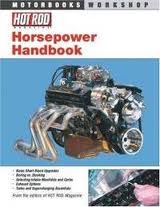 Description



Fits On:
All Hot Rod Muscle Cars (Universal)
About this Product:
Author: David Freiburger
Format: Paperback, 160 Pages

Big-Block Chevy

The heart of every hot rod and muscle car is its engine - and the one to have, the most powerful performance engine on the planet, is the big-block Chevy V-8. Tapping into the know-how at Hot Rod magazine, this book offers illustrated, step-by-step instructions for building a big-block Chevy V-8-from grinding valves and selecting headers to shot-peening pistons and putting together winning head and intake combinations.

At Hot Rod magazine, there is no such thing as too much horsepower, but the editors and experts are willing to test that limit - and, with this book, to take big-block Chevy fans along for the ride.

Quayside Publishing books show customers how to use the parts and accessories, instilling the confidence to tackle projects for maintenance, repair, customization, or performance. Beyond repair manuals, these books are tailored to the enthusiast who cares for their vehicles. The books are detailed, full of color photographs and filled with DIY project ideas.

About the Author:
David Freiberger is the editor of Hot Rod magazine.

» SITE CENTERS



» LINKS



» POWERED BY









CURRENT VEHICLE
Pontiac