Quayside Publishing Book How To Build A Cheap Hot Rod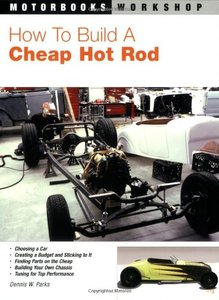 Description



Fits On:
All Hot Rod Muscle Cars (Universal)
About this Product:
Author: Dennis W. Parks
Foreword by: Tom Prufer
Format: Paperback, 192 Pages
Publisher: Motorbooks; 1st edition (November 15, 2007)

The ever-escalating cost of building or buying a hot rod is leaving more and more would-be hot rodders behind. This book will get those hopefuls off the sidelines by showing how a hot rod can be built for less than the cost of, say, a new Hyundai.

Author Dennis Parks documents his own project--building a quintessentially cool Model T roadster from a "Track-T" kit--showing in step-by-step detail how to turn a pile of parts into a rockin hot rod. He provides a detailed, easy-to-follow guide for building a car of your own.

The advice and instructions cover every aspect of an affordable hot rod build, from establishing the target vehicle and budget, to finding parts, building the car, and fine tuning the finished vehicle on the road.

With Parks' money-saving tips and photo-supported how-to sequences, virtually anyone with minimal mechanical skills and the will to use them can be sure of building their hot rod right, and for the right price. The book also includes a full resource guide and recommendations for further reading.

Quayside Publishing books show customers how to use the parts and accessories, instilling the confidence to tackle projects for maintenance, repair, customization, or performance. Beyond repair manuals, these books are tailored to the enthusiast who cares for their vehicles. The books are detailed, full of color photographs and filled with DIY project ideas.

About the Author:
Dennis Parks is a professional technical writer and the author of several how-to books for MBI, including How to Build a Hot Rod, How to Build a Hot Rod Model A Ford, How to Restore and Customize Auto Upholstery and Interiors, and How to Paint Your Car. He lives near St. Louis, Missouri.

» SITE CENTERS



» LINKS



» POWERED BY









CURRENT VEHICLE
Pontiac