Quayside Publishing Book How To Diagnose And Repair Automotive Electrical Systems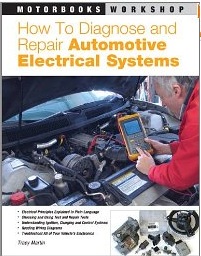 Description



Fits On:
All Muscle Cars (Universal)
About this Product:
Author: Tracy Martin
Format: Paperback, 160 Pages
Publisher: Motorbooks; First edition (November 10, 2005)

Tracy Martin, an ASE (Automotive Service Excellence) Certified Master Technician, explains the principles behind automotive electrical systems and how they work. This book details the various tools, such as multimeters and test lights, that can be used to evaluate and troubleshoot any vehicle's electrical system. Several hands-on projects take readers on a guided tour of their vehicle's electrical system and demonstrate how to fix specific problems.

Quayside Publishing books show customers how to use the parts and accessories, instilling the confidence to tackle projects for maintenance, repair, customization, or performance. Beyond repair manuals, these books are tailored to the enthusiast who cares for their vehicles. The books are detailed, full of color photographs and filled with DIY project ideas.

About the Author:
Tracy Martin writes for Motorcycle Consumer News, RoadBike, Friction Zone, PowerSports, and Dealer News magazines. Author of three books, Tracy co-authored the MSF's Guide to Motorcycling Excellence, Second Edition. Published by Motorbooks International, Tracy's latest book, Motorcycle Electrical Systems: Troubleshooting and Repair, is available at book sellers everywhere. His first book, How to Diagnose and Repair Automotive Electrical Systems, is also available at book stores. In addition to writing, Tracy teaches the Total Control Advanced Riding Clinic with Lee Parks, author of Total Control. Tracy has presented riding skills and motorcycle suspension seminars across the United States and recently in England and the Russian Federation.

» SITE CENTERS



» LINKS



» POWERED BY









CURRENT VEHICLE
Pontiac