Pyle 10.2" TFT/LCD Rearview Mirror Monitor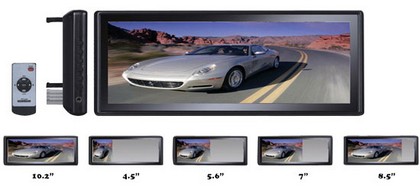 part# PLM102
Price: $95.91 / Each


Additional Info:
Description



Fits On:
All Vehicles (Universal)
About this Manufacturer:
Pyle made a name for themselves in the 1960s building high-end subwoofers. Their original Pyle Driver speaker was a mainstay in households for several decades. Since then they have expanded their lineup to include a huge range of audio and electronic entertainment products from speakers to DVD players. Based in Brooklyn, NY Pyle has always been proud of its excellent customer service. They also take pride in the fact that they are able to offer high-quality products at very reasonable prices for those who are on a tight budget. Born out of good old American ingenuity, Pyle driver has grown to become a strong presence in the electronic entertainment world.
About this Product:
Selectable Display Sizes: 10.2",8.5",7",5.6",4.5"
Universal Clip on Latch to Existing Mirrors
Dual Video Inputs Side Aux Input
PAL NTSC Auto Switching Color Systems
Reverse Wire Trigger
OSD Menu
Remote Control
25:9 / 23:9 / 16:9 / 4:3 /1:1 Adjustable Viewing Ratio
Full Mirror when Powered Off
Wide Viewing Angle
Blue Screen Function When No Signal
Anti Glare Mirror
Wireless Remote Control
Power Supply: DC 12V
Dimensions: 11" x 4.3" x 1.2"

» SITE CENTERS



» LINKS



» POWERED BY









CURRENT VEHICLE
Plymouth