Pyramid 10 Band Half-Din Power Booster Graphic Equalizer Amplifier 200 Watts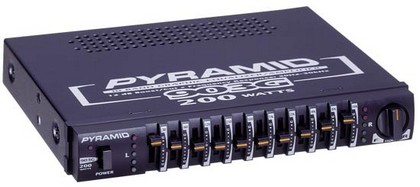 part# 903G
Price: $31.27 / Each


Additional Info:
Description



Fits On:
All Vehicles (Universal)
About this Manufacturer:
Pyramid is a car audio company that offers affordable alternatives to some of the pricier brands on the market. A family owned business based in Brooklyn, NY Pyramid offers person to person customer service that is becoming increasingly harder to find in the world of outsourcing and call centers. With two decades of industry experience they have a large catalogue to choose from with audio and electrical components including power supplies, amplifiers, crossovers, speakers, capacitors, subwoofers and much more. No longer do you have to pay big bucks to have a custom stereo setup. With Pyramid you can meet your needs on a conservative budget.
About this Product:
Half-Din Design 1" Tall
10 Band Graphic Equalizer
12dB Boost/Cut Per Band
Power On/Off Switch
Dual Channel Multi-Colored Power Level Indicators
100 Watts x 2 Maximum Output
2/4 Speaker Hook-up
Fader Control
Common or Floating Ground
Frequency Response: 30-30kHz
Output Impedance: 4-8 Ohm
Automatic Overload Sensing Circuit
For 12V DC Negative Ground Systems
Dimensions: 5"L x 7"W x 1"H

» SITE CENTERS



» LINKS



» POWERED BY









CURRENT VEHICLE
Oldsmobile