Stockhausen Kresto® KWIK-Wipes Hand Cleaning Towels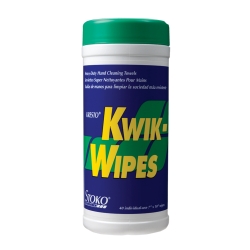 Description



Fits On:
Universal (All Vehicles)
About this Product:
Features and Benefits:

•Moistened, textured wipes, perfect for when water is not available
•Quick cleaning of dirt, grease and grime
•Economical, small convenient package size
•Made for hands, but can be used for cleaning tools and other surfaces
•Contains Kresto cleaning formulation

Kresto Kwik Wipes are moistened, textured towels that feature the Kresto cleaning formulation for lifting away tough dirt, grease and grime. Kwik-Wipes are convenient to use at work stations and ideal for maintenence fleets. Applications include: Mining Industry Maintenence, metal trades, foundries, smelters, mobile workers, mobile automotive industry, welding, steel mills, rail maintenence and council workers. Can of 40 wipes.

» SITE CENTERS



» LINKS



» POWERED BY









CURRENT VEHICLE
Mercury