SOLAR Jump-N-Carry X-Force Extreme 12 Volt Jump Starter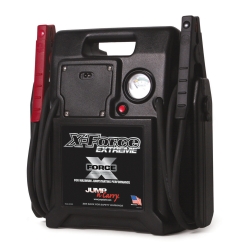 Description



Fits On:
Universal (All Vehicles)
About this Product:
Features and Benefits:

Designed, developed and manufactured in the USA
•New X-Force battery technology features pure lead construction for longer shelf life, deeper cranking, faster and easier recharging and greatly reduced sulfation build-up between charges
•Exceptional jump starting power - delivers 1540 Crank Assist Amps
•Extra-long 68" cable leads allow X-Force jump starters to be positioned in the ideal location during jump starting, even on larger vehicles
•Fully automatic recharging of the internal batteries for better charging, longer battery life and great convenienceWith the new X-Force line of jump starters, Jump-N-Carry, the leader in professional jump starting, once again raises the bar for starting capacity in a handheld jump starter. The new, Made in the USA X-Force Extreme model is ready to tackle the most demanding jump starting tasks in automotive, fleet, construction and industrial environments. A battery status gauge provides specific, detailed information on the state of charge of the onboard battery(ies).Industrial-grade Hot Jaw; Clamps penetrate corrosion on battery terminals and enable maximum power transfer and a rugged, one-piece case construction allows X-Force jump starters to stand upto even the toughest conditions.

» SITE CENTERS



» LINKS



» POWERED BY









CURRENT VEHICLE
Mercury