SOLAR 6/12 Volt 40/20/5/200A Charge It!® Wheel Charger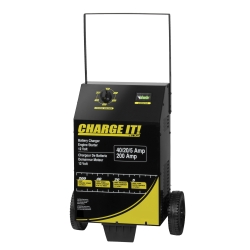 Description



Fits On:
Universal (All Vehicles)
About this Product:
Features and Benefits:

•Versatile: 6 and 12 Volt charging
•Multiple 12V charge rates: 40/20/5A
•200A engine starting assistance
•Ammeter displays charging progress
•Slimline design provides easy mobility and efficient storage in crowded shopsThe CHARGE IT! 4725 offers fast, beneficial battery charging and booting in an economical, space-saving design. Features multiple 12 Volt charging rates for convenience and 200 Amp engine starting assistance. Slimline design offers easy mobility and convenient storage in crowded shops.

» SITE CENTERS



» LINKS



» POWERED BY









CURRENT VEHICLE
Mercury