Gerson Company Gerson Lid And Paint Cup Liner System - Medium Kit/190 Micron Filter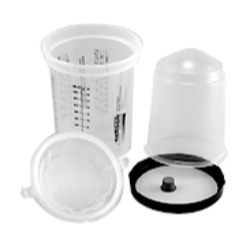 Description



Fits On:
Universal (All Vehicles)
About this Product:
Features and Benefits:

Medium (750ml capacity)
•Spray from any angle - even upside down
•Filter paint with 190 micron built-in mesh
•Made with a patent-pending unitized Lid/Liner helps secure and quickly lock in place on a spray gun
•Economical- Saves solvent and its disposal cost

This product is brought to you from the world leader in paint filtration! This new, advanced Gerson Paint Filtration System saves you time and money by simplifying assembly, use, clean-up and disposal. Two twists and the patent-pending unitized lid/liner is securely assembled, read to quickly lock in place to your spray gun. Unlike other paint systems, the unitized lid/liner assembly is guaranteed to never come apart during disposal. This eliminates the hazard and mess of spilled paint. Or, it can be securely sealed with the provided caps for use in future spraying of the remaining paint. The precision engineered liner collapses for complete drainage and a true spray pattern. Economical to use and more affordable to buy! Kit includes the following: 48 Lids (190micron Filter), 48 Liners, 48 Rings and 48 Lid Caps.

» SITE CENTERS



» LINKS



» POWERED BY









CURRENT VEHICLE
Mercury