Flitz Stainless Steel And Chrome Cleaner With Degreasing Agents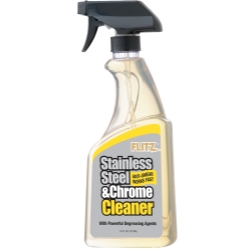 Description



Fits On:
Universal (All Vehicles)
About this Product:
Features and Benefits:

Water-based product
•Cuts through greasy build-up
•Streak free formula
•Will not attract dust
•Won't discolor stainless steelThe Stainless Steel and Chrome Cleaner is a water-based product which also contains degreasing agents. The degreasing agents will cut through fingerprints and greasy residue on all stainless steel and chrome surfaces. Perfect for maintaining brushed stainless steel without the worry of streaking. Simply spray on and wipe off for a showroom shine.

» SITE CENTERS



» LINKS



» POWERED BY









CURRENT VEHICLE
Mercury