Flitz Headlight Restoration Kit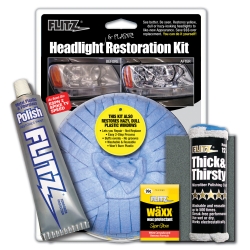 Description



Fits On:
Universal (All Vehicles)
About this Product:
Features and Benefits:

•Removes haziness from plastic headlights in one easy step
•Complete kit includes everything needed to restore headlights
•Buff Ball made of high quality fabric from Italy
•Buff Ball will attach to any drill with 3/8" hex shaft - washable and reusable
•Polish included is a multi-purpose polish for metals, plastics and fiberglass

One kit does it all: headlights, tail lights, windshields, plastic camper windows, helmet face shields, boat hatches, light bars, bug deflectors. Just apply Flitz Polish and buff off. Improves safety and saves money.

» SITE CENTERS



» LINKS



» POWERED BY









CURRENT VEHICLE
Mercury