Yokohama ADVAN Sport Run Flat 225/50RF-16 92W RPB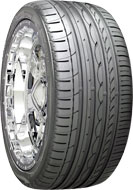 Description



Fits On:
Universal
About this Manufacturer:
Perhaps the best known Asian tire brand, Yokohama has been producing tires in Japan since 1917. They first came to the US in the 1960's and immediately became the tire company of choice for racers all over the country. Thanks to the great performance of some of their more affordable tires, Yokohama was especially popular with the grassroots crowd. Now, with years of motorsports under their belt, they are still a dominant name in all forms of competition from desert racing to Daytona. They are constantly developing new and innovative tire solutions to meet the problems of tomorrow, and with a commitment to green manufacturing they have shown a level of corporate responsibility that is lacking in many competitors. Quality, performance, and value have been the major hallmarks of Yokohama's success, and look to keep them as an industry leader well into the future.
About this Product:
Yokohama ADVAN Sport Run Flat

Treadwear: 180
Traction: A
Temperature: A
Speed Rating: Z


About the ADVAN Sport Run Flat
Built using run flat technology

The ADVAN Sport is the flagship of the ADVAN series of tires. It is an ultra-high performance tire line with ultra-high-speed capabilities (over 180mph), designed to match the capabilities of the supercars coming from high-image manufacturers around the globe. The ADVAN Sport offers performance at a very high level, giving not only excellent handling and steering response, but also exceptional wet pavement traction, and a comfortable ride.

Original equipment on Bentley Continental GT, Bentley Flying Spur, Porsche 997 Carrera 4.




» SITE CENTERS



» LINKS



» POWERED BY









CURRENT VEHICLE
Mercedes