Yokohama AVID ENVigor 175/65R15 84H BSW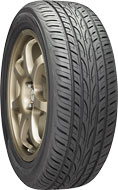 Description



Fits On:
Universal
About this Manufacturer:
Perhaps the best known Asian tire brand, Yokohama has been producing tires in Japan since 1917. They first came to the US in the 1960's and immediately became the tire company of choice for racers all over the country. Thanks to the great performance of some of their more affordable tires, Yokohama was especially popular with the grassroots crowd. Now, with years of motorsports under their belt, they are still a dominant name in all forms of competition from desert racing to Daytona. They are constantly developing new and innovative tire solutions to meet the problems of tomorrow, and with a commitment to green manufacturing they have shown a level of corporate responsibility that is lacking in many competitors. Quality, performance, and value have been the major hallmarks of Yokohama's success, and look to keep them as an industry leader well into the future.
About this Product:
Yokohama AVID ENVigor

Treadwear: 560
Traction: A
Temperature: A
Speed Rating: H


About the AVID ENVigor
Competitive testing shows that the AVID ENVigor™ is the best all-around performance tire on the road. While some tires may excel in one category, only the AVID ENVigor is a consistent performer across categories.

Confident All-Season Performance

UNIBLOC SHOULDER & TAPERED CENTER RIB provide enhanced stiffness for improved handling on wet and dry roads.
ANGLED GROOVE WALLS & ADAPTIVE 3D SIPES help resist hydroplaning and maintain winter and water traction over the life of the tire.

Long Treadlife

OPTIMIZED CONTACT PATCH maximizes road contact for long, even wear while minimizing rolling resistance by reducing the friction of the cap compound.
GROOVE-IN-GROOVE TECHNOLOGY creates tiny slits inside groove walls to help distribute stress loads to reduce uneven wear and enhance stiffness.

Excellent Fuel Efficiency

ALL-NEW SILICA COMPOUND delivers ultra-low rolling resistance for increased fuel efficiency, without sacrificing treadlife, comfort or grip on dry, wet or snow-covered roads.

Enhanced Comfort

SIX PITCH TREAD VARIATION separates the tread blocks into six size and shape variations, which are strategically staggered around the tire to reduce pattern noise.
UNIQUE, ALL-NEW PROFILE is engineered to deliver a smooth, comfortable ride.





» SITE CENTERS



» LINKS



» POWERED BY









CURRENT VEHICLE
Mercedes