Kastar 11 Piece Gasket Hole Punch Set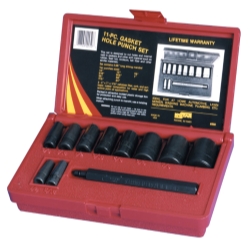 Description



Fits On:
Universal (All Vehicles)
About this Product:
Features and Benefits:

•Designed to cut holes and internal radii in gaskets and other soft material such as rubber, lead foil, linoleum, felt fiber and other similar materials.

Contains long driving mandrel. Ten punch sizes: 1/4.5;, 5/16.5;, 3/8.5;, 7/16.5;, 1/2.5;, 9/16.5;, 5/8.5;, 3/4.5;, 7/8.5;, 1.5;.

» SITE CENTERS



» LINKS



» POWERED BY









CURRENT VEHICLE
Mercedes