Vogue Premium All Season HR 235/55R17 99H WW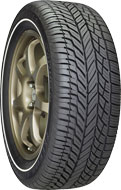 Description



Fits On:
Universal
About this Manufacturer:
When it comes to the world of luxury tires perhaps the best known name in the industry is Vogue Tyres. The company started off in the early 1900s producing unique whitewall tires which they targeted toward the limousine market. Their patented gold stripe around the outside of the whitewall became synonymous with luxury, and quickly Vogue Tyres became the brand of choice for people with discerning taste. Over the years Vogue continued to innovate, creating performance oriented tire designs that still retained the classic Vogue aesthetic, and expanding their lineup to include wheels and related accessories. The Illinois based company takes tremendous pride in the extreme levels of quality and safety that go into each product, and you can rest assured that you are getting the best when you choose Vogue
About this Product:
Vogue Premium All Season HR

Treadwear: 440
Traction: A
Temperature: A
Speed Rating: H


About the Premium All Season HR
To keep pace with today's emphasis on performance, the Vogue Premium All-Season Radial is H-speed rated, an indication of engineering for stability and responsiveness. In addition this tire carries a road hazard and 60,000 mile warranty. The Vogue Premium All-Season Radial Tire is designed for precise cornering as well as responsive handling, steering and acceleration. This performance coupled with double steel belts adds to the strength and integrity of the Vogue Premium All-Season.




» SITE CENTERS



» LINKS



» POWERED BY









CURRENT VEHICLE
Mercedes