Central Tools Periscope Cylinder Bore Gauge 2.6" - 7"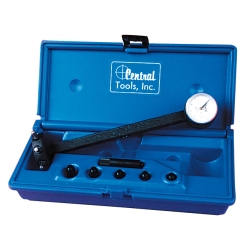 Description



Fits On:
Universal (All Vehicles)
About this Product:
Features and Benefits:

•Contact extensions included
•Range: 2.6-7"
•Graduations: .001"
•Reading: 0-50-0
This periscope gauge is used to measure cylinder wear without removing the pistons. It can measure bores up to 8" deep. Also when used with a micrometer it can check the cylinder diameter. Its rugged construction allows for a longer and stronger tool life.

» SITE CENTERS



» LINKS



» POWERED BY









CURRENT VEHICLE
Mazda