Molecule Refresh 16 Oz Sprayer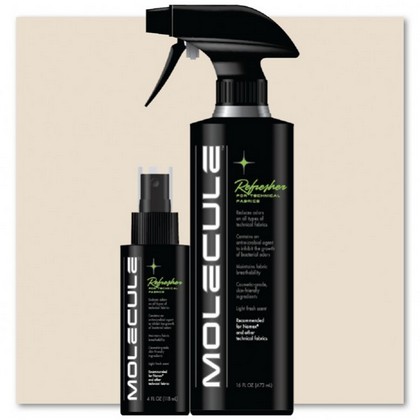 Description



Fits On:
Universal
About this Manufacturer:
Molecule cleaning products are the result of a background in chemical manufacturing and a passion for motor racing. The owner, after selling his chemical company to a Fortune 500 company, decided to continue his love for racing during retirement. Realizing that his racing suits needed special cleaning to maintain the life of the Nomex material they were made of, he embarked on designing specific cleaning problems to address this problem. In little time, he came up with the Molecule brand.

Molecule products are designed by racers, for racers, with proper maintenance of racing gear in mind. Many of these products are designed to defend against flammable oil stains a racing suit may have after significant usage, while maintaining breathability.
About this Product:
Nomex® racing suits required special care that dry cleaning and ordinary laundry products could not provide. Molecule Labs have develop a new line of protective chemicals and care products specifically formulated for Nomex® and other technical fabrics.Caring for your racing suit has never been easier. No more expensive dry cleaning. Molecule now makes machine washing the best way to care for Nomex and other technical fabrics. Ordinary laundry detergents contain additives that can attract moisture, oils and flammable stains. Molecule has been designed for the unique soils of the racing environment. It removes even the toughest stains. Molecule is the right way to care for Nomex and other technical fabrics. No other product cleans, protects, and refreshes racing suits like the Molecule Technical Fabric Care System?? Spot Cleaner Concentrated formula penetrates deeply to safely dissolve embedded spots and stains Part of the Molecule Technical Fabric Care System For use with Molecule Wash?? Wash Concentrated formula effectively cleans technical fabrics in standard washing machines Removes contaminants that can degrade fabric performance Contains an antimicrobial agent to inhibit the growth of bacterial odors Maintains fabric breathability Contains a fabric brightener to help you look your best Recommended for Nomex® and other technical fabrics?? Refresher Reduces odors on all types of technical fabrics Contains an antimicrobial agent to inhibit the growth of bacterial odors Maintains fabric breathability Cosmetic-grade, skin-friendly ingredients Light fresh scent Recommended for Nomex® and other technical fabrics?? Protector Keeps gear cleaner and safer by resisting contaminants that can degrade fabric performance Sheds water, oils, fuels and dirt Maintains fabric breathability Fabric sunscreen reduces color fading caused by UV rays Safe, water-based, patent pending formula Spray on and tumble dry to create a durable protective coating Recommended for Nomex® and other technical fabrics

» SITE CENTERS



» LINKS



» POWERED BY









CURRENT VEHICLE
Mazda