Pyramid 3-Way 6 Channel Electronic Crossover System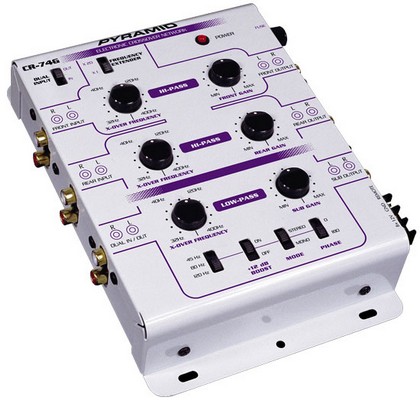 part# CR74
Price: $41.20 / Each


Additional Info:
Description



Fits On:
All Vehicles (Universal)
About this Manufacturer:
Pyramid is a car audio company that offers affordable alternatives to some of the pricier brands on the market. A family owned business based in Brooklyn, NY Pyramid offers person to person customer service that is becoming increasingly harder to find in the world of outsourcing and call centers. With two decades of industry experience they have a large catalogue to choose from with audio and electrical components including power supplies, amplifiers, crossovers, speakers, capacitors, subwoofers and much more. No longer do you have to pay big bucks to have a custom stereo setup. With Pyramid you can meet your needs on a conservative budget.
About this Product:
3 Way Crossover Network
6 Channel Output (3 Stereo Channels)
Single or Dual Input
Low Pass Subwoofer Channel with Boost Function
Gain Controls for Front, Rear and Sub Channels
Frequency Response: 20Hz-30kHz
Continuously Variable Crossover Settings
20Hz-500Hz for Low
100Hz-8kHz for Mid
1kHz-15kHz for High
Front Channel High Pass Filter
Rear Channel High Pass Filter
12dB Slope per Octave (2nd Order)
Front Channel Frequency Extender (Factor 1:20)
Auxiliary RCA Preamp Output
Remote Turn On/Off
LED Power On Indicator
Fuse Protected
For 12VDC Negative Ground Systems
Dimensions: 5.625"W x 8.375"L x 1.66"H
Frequently Asked Questions



What does a Crossover do? Why buy a Crossover?
The job of a crossover is to split your audio signal into different bands based on the frequencies and then these bands can be routed to the speakers that are best suited for those bands. In other words it sends the bass signals to the subwoofers and the high-frequency signals to the tweeters. By using a crossover your subwoofers will no longer waste energy trying to process the entire acoustic band but only the frequencies that it can handle. This makes for added clarity in your car audio system and also gives the owner more flexibility when it comes to fine tuning the system.



» SITE CENTERS



» LINKS



» POWERED BY









CURRENT VEHICLE
Mazda