Centerforce Clutch Kit - Centerforce I, Size 8 7/8", 22 Spline By 15/16" Incl. Pressure Plate, Clutch Disc W/o Throwout Bearing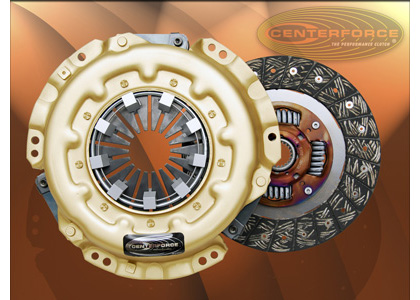 Description



Fits On:
83-89 RX-7 Base, Turbo R2 1.1/1.3
About this Manufacturer:
Centerforce has been a mainstay in the performance industry for many years, providing a unique "spin" on clutches. The company's patented "Centerforce" technology employs a set of weights that use centrifugal force and leverage to increase clamping power the higher the engine is revved. This means that the more power your car puts to the ground, the stronger a Centerforce clutch will hold. Almost as important is the fact that because of this design, Centerforce is able to increase clutch performance without increasing the effort needed to disengage the clutch, maintaining a stock pedal feel, which is a big deal in our book.
About this Product:
The Centerforce I is designed as a high-quality entry-level performance clutch for those in need of a superior stock replacement. Using the patented Centerforce centrifugal weights (where applicable) and premium friction materials, the Centerforce Stage 1 clutch system is perfect for applications with stock engines or mild power increases from minor bolt-on modifications.

» SITE CENTERS



» LINKS



» POWERED BY









CURRENT VEHICLE
Mazda