AirCat 1" Drive "Light Duty" Aluminum Impact Wrench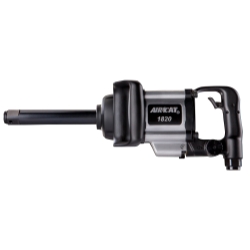 Description



Fits On:
Universal (All Vehicles)
About this Manufacturer:
AIRCAT has been finding ways to improve upon their pneumatic tools since 1998. This Spokane, Washington-based company has developed a patented exhaust system that reduces backpressure; effectively improving power and torque while reducing noise. Aircat tools use high-quality steel in their composition which lengthens their lifespan. Their products are all assembled in the USA, backed with great customer service, and priced fairly.
About this Product:
Features and Benefits:

•Unheard of power out of this sleek lightweight (15.36lbs) light-duty grade 1" impact wrench
•Loosening torque: 1,600 (ft-lb)
•Working torque: 170-1380 (ft-lb)
•incorporates the reliable Twin Hammer mechanism while giving the user all the power you expect in a standard-grade 1" drive
•Weight: 15.36 lbs (6.98 kg)

» SITE CENTERS



» LINKS



» POWERED BY









CURRENT VEHICLE
Mazda