AutoLoc Power Trunk / Hatch Release Kit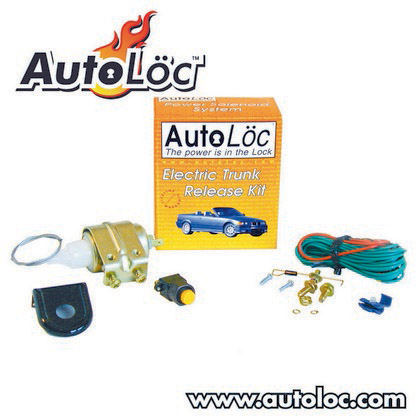 Description



Fits On:
All Vehicles (Universal)
About this Manufacturer:
Autoloc is an established manufacturer that has a knack for developing creative new products. They were among the first to offer vertical door conversion kits and shaved door kits, to name a few.
About this Product:
TRUNK POP! AutoLöc's exclusive PT1000 Power Trunk Release Kit will convert any manual latch on any trunk, hatch, rear glass, or tonneau cover into a power latching system. The PT 1000 will work with all after-market alarms for remote operation.

Each PT1000 comes with an attractively styled activation button with steel bezel for mounting in your vehicle and features AutoLöc 11-pound solenoids, which are adequate for lighter applications such as trunk latches. The kit also includes hardware and connectors, wiring, adjustable bracket, pre-stretched stainless steel cable, and detailed instructions which ensure easy installation for even the "weekend" mechanic. Backed by AutoLöc's limted lifetime warrnaty!

» SITE CENTERS



» LINKS



» POWERED BY









CURRENT VEHICLE
Mazda