K-Seal Fluids - Coolant Leak Repair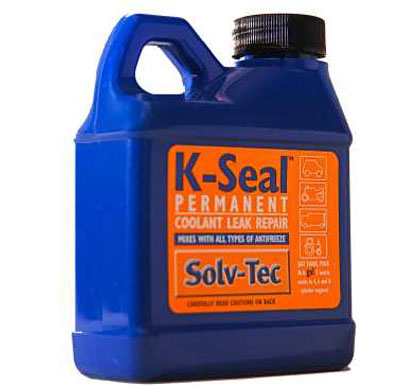 Description



Fits On:
Universal
About this Manufacturer:
Sometimes, replacing components in a leaky cooling system just isn't a viable solution, especially when cost is a concern. That's where K-Seal comes in to save the day. Touted by many as one of the best-kept secrets in cooling system repair, K-Seal utilizes ceramic micro-fibers and copper to fill low-pressure areas in your cooling system, effectively sealing and welding itself to the leaky area. K-Seal is guaranteed to repair coolant leaks in your engine block, cylinder heads, heater core, freeze plugs, radiator, and water pump housing or else the company will replace the bottle or refund the purchase price. With a guarantee like that, we feel that it's definitely worth a try if you have a leak somewhere in your cooling system.
About this Product:
K-Seal™ is specially formulated to permanently seal most cracks in the engine block and head. This unique product is guaranteed to mix with all types of glycol based coolant and antifreeze. K-Seal™ can also be used to seal holes and cracks in the head gasket, radiator, heater core, freeze plugs, water pump casing and other metal components of the cooling system in both gas and diesel engines.

» SITE CENTERS



» LINKS



» POWERED BY









CURRENT VEHICLE
Lincoln