EXTERIOR
INTERIOR
LIGHTS
PERFORMANCE
SUSPENSION
BRAKES
DRIVETRAIN
AUDIO
WHEELS
GARAGE
Shop GMC Yukon Lift Kits by Year
Filter Your Results
Brand

Price Range

GMC Yukon Lift Kits
Shop GMC Yukon Lift Kits by Year
Shop GMC Yukon Lift Kits by Brand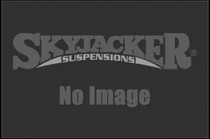 Fits: 02-05 Chevrolet Avalanche 2500, 02-05 Chevrolet Tahoe, 02-05 GMC Yukon XL 2500, 02-06 Chevrolet Suburban 2500
PART# C9671A
Fits: 00-06 GM C1500 Sub/Yuk/Tahoe/Aval 2WD W/Load Leveling Shks
PART# K1034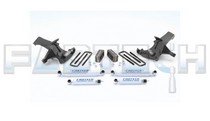 Fits: 92-99 GM C1500 Sub/Yuk/Tahoe 2WD
PART# K1037

Fits: 07-10 GM K1500 Sub/Yuk/Tahoe/Aval W/O Autoride 4WD
PART# K1019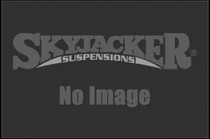 Fits: 02-05 Chevrolet Avalanche 1500, 02-05 Chevrolet Suburban 1500, 02-05 Chevrolet Tahoe, 02-05 GMC Yukon XL 1500
PART# C9341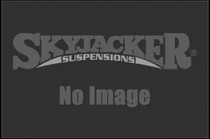 Fits: 06-11 Chevrolet Suburban 1500, 06-12 Chevrolet Tahoe, 06-12 GMC Yukon, 06-12 GMC Yukon XL 1500, 07-12 Chevrolet Avalanche, 2006 Chevrolet Avalanche 15 ...
PART# C7661SR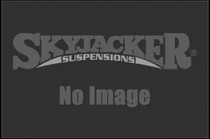 Fits: 01-05 GMC Yukon, 02-05 Cadillac Escalade
PART# C933PA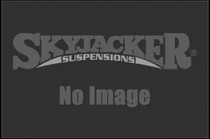 Fits: 06-07 GMC Sierra Denali, 06-12 Cadillac Escalade, 06-12 Chevrolet Suburban 1500, 06-12 GMC Yukon, 06-12 GMC Yukon XL 1500, 07-11 Chevrolet Tahoe, 07-1 ...
PART# C7361SR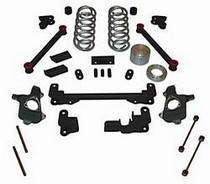 Fits: 02-04 Chevrolet Suburban 2500, 02-05 Chevrolet Suburban 1500, 02-05 GMC Yukon XL 1500, 02-05 GMC Yukon XL 2500
PART# C9341K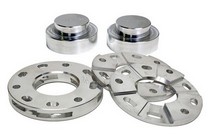 Fits: 2007-2012 Cadillac Escalade, EXT, ESV-Non AWD 2WD, 4WD, 2007-2012 Chevrolet Avalanche 1500 2WD, 4WD, 2007-2012 Chevrolet Suburban 1500 2WD, 4WD, 2007- ...
PART# 69-3010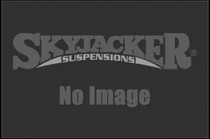 Fits: 00-05 Chevrolet Tahoe;2000 Chevrolet Tahoe (Canadian), 00-05 GMC Yukon, 02-05 Chevrolet Avalanche 1500
PART# C933R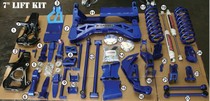 Fits: 07-12 GM SUV 1/2 Ton 4WD, Auto Leveling
PART# 50735
Q: What is a complete lift kit? Why buy one? What parts do complete lift kits normally come with? Do complete lift kits ever vary in terms of part composition?
A: Complete lift kits come with all the necessary components to lift your vehicle's ride height. If you are looking to gain clearance under your vehicle for rough roads or get some extra wheel well space for larger wheels and tires, complete lift kits are the absolute best way to go because it is essentially one stop shopping. With a complete lift kit you can gain the clearance you need to drive on the trails and will give your rig an aggressive new look at the same time that is sure to turn heads as you drive down the road. So whether you are after the right look or need some additional function from your truck, we highly recommend complete lift kits.

Normally if you are dealing with a complete suspension lift kit this means you will get four new lift springs, mounting hardware, bushings and shock absorbers to match your new springs all in one kit. If it is a body lift kit this means all the appropriate spacers, bushings and hardware to complete the lift. If it is a shackle lift the kit will include shackles, bushings and hardware. However, there is often variation between brands on what is included in a complete lift kit. For example some kits may include extended brake lines or longer shackles in the package in addition to springs, shocks and hardware. On the other hand some companies require you to buy extended brake lines or even shock absorbers separately and only include the basic springs and hardware in the kits. Be sure to look carefully at what is included in each kit and shop accordingly. If one kit is noticeably cheaper than another there is probably a good reason; it may not include all of the same components.

Q: What is a suspension lift kit? Why buy one? How does a suspension lift differ from a leveling lift, and how does either of those differ from a body lift?
A: There are many ways that you can lift your vehicle. The most common forms include suspension lift kits, leveling lift kits and body lift kits. A suspension lift kit is a means of raising your truck, SUV or Jeep by utilizing suspension components such as taller springs and longer shock absorbers. Leveling kits utilize helper springs or spacers in order to boost the ride height on only one end of your rig so that it rides with a level stance and potentially can clear larger tires. Body lift kits gain clearance at the wheel wells to fit larger tires by using spacers between the body of the vehicle and the frame. With the body sitting higher away from the frame there is more room for big wheels and tires, however the actual ground clearance underneath the vehicle remains unchanged. Although the priciest of these options, a suspension lift kit is the most complete, and for most situations ideal, form of lift for your rig. By incorporating new springs and usually shocks, you not only gain lift, but you have the correct spring rates and shock valving to match the lift. Usually people add lift to their rides in order to clear larger tires for off road use. Larger tires are heavier and so require different suspension settings. With a complete suspension lift kit you will have the right equipment to work with your heavy duty tires so you can worry less about unsafe handling and focus instead on where your next adventure will be. Many of these kits also come with longer brake lines and custom steering linkage to compensate for the added lift. Another nice thing about suspension lift kits is that not only do you gain clearance for bigger rubber, but you also gain ground clearance under the vehicle so that you are less likely to hit rocks or get high-centered when driving off road. As with all lift kits, when you raise your rig, the center of gravity also moves higher so be sure to drive with caution as there is an increased risk of rollover.



Enter the Make, Model and Year of Your Vehicle
It helps us give you the best shopping experience! You can skip.