Strategic Tools And Equipment CAN Test Box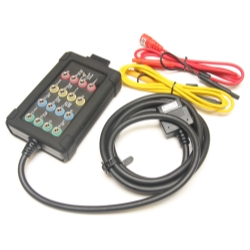 Description



Fits On:
Universal (All Vehicles)
About this Product:
Features and Benefits:

•Break-out box that quickly and easily displays signal activity on the vehicle
•Saves the technician time when diagnosing CAN system issues
•Eliminates the need to probe the OBDII connector
•Works especially well with European and Asian vehicles equipped with CAN technology
•Individual nodes are LEDs that light up with CAN activity, speeding diagnostics time

The CAN Test Box (CTB) connects to a vehicle's OBDII connector. It instantly checks power and ground circuits and identifies communication link protocols. The tool can be used either stand-alone or with a scan tool and/or oscilloscope. For advanced diagnostics, it connects between a scan tool and the vehicle, and can also connect to an oscilloscope for signal capture and collection of signal waveform data. The concept of the product is simple - a breakout box provides connection points to all lines in the J1962 OBDII connector, which allows connection to individual lines on an OBDII connector easily and securely. Saves time and increases productivity! Great for use on German vehicles.

» SITE CENTERS



» LINKS



» POWERED BY









CURRENT VEHICLE
Lexus