Robinair CoolTech® 1/8HP 1.2CFM Vacuum Pump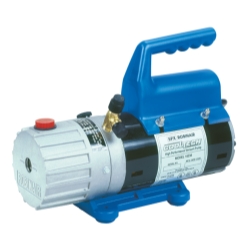 Description



Fits On:
Universal (All Vehicles)
About this Product:
Features and Benefits:

The 1.2 CFM pump consistently performs to specifications and stated CFM ratings.
•The new inlet " tee" makes them more versatile than ever before and can be used for all refrigerants using 1/4' MFL and 1/2' ACME fittings.
•The efficient offset rotary vane, two-stage design pulls down to 50 microns for fast, thorough removal of air and moisture from A/C systems.
•Weighing just 10 pounds, it's easy to carry, to use
•All Robinair pumps are backed by our exclusive "No Hassle" over-the-counter replacement warranty. The ROB15234 is designed and built to withstand rugged, everyday use! With power and capacity for a wide range of service applications and a high CFM rating for fast, thorough evacuation. Also features two-stage rotary vane design and uses standard 110-volt power source.
A vacuum pump that's fast and thorough saves you not only time, but also the expense of callbacks and
dissatisfied customers. Robinair pumps are engineered specifically to meet the needs of the kind of A/C work you're doing today, and to give you trouble-free operation. We've put our years of experience and know-how into developing pumps that help you do the job faster and better. Laboratory tests show that Robinair vacuum pumps consistently out-perform other major brands.

» SITE CENTERS



» LINKS



» POWERED BY









CURRENT VEHICLE
Lexus