Lincoln Lubrication Value Series 40:1 Single Acting Grease Pump For 25-50 Lb. Pail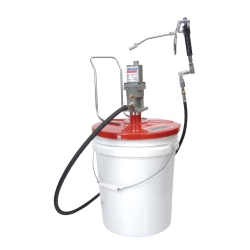 Description



Fits On:
Universal (All Vehicles)
About this Product:
Features and Benefits:

•Professional quality lubrication at an affordable price
•High pressure
•Portable medium to light duty chassis lubrication
•Proven valved piston design
•Simple grease plunger/bushing

Easy, one handed operation. Built for durability and reliability. Includes: 40:1 series pump, pail cover, handle, high-pressure control valve, universal swivel, coupler, 7' connecting hose, and follower plate. Pail not included.

» SITE CENTERS



» LINKS



» POWERED BY









CURRENT VEHICLE
Lexus