Flitz Original Big Blue Buff Ball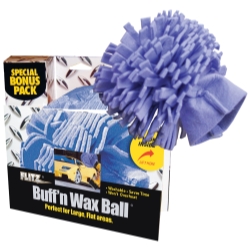 Description



Fits On:
Universal (All Vehicles)
About this Product:
Features and Benefits:

Made of premium quality fabric, not foam
•3/8" hex shaft attaches to any drill or air tool
•Will not shred or tear
•Machine washable - durable
•Orbital shape allows you to buff out concave and convex surfacesThe Big Blue Buff Ball is the perfect tool for buffing those large flat areas as well as concave and convex surfaces. This more dense buff ball is perfect for waxing applications, but will also tackle the tedious job of polishing out those larger concave and convex surfaces such as truck wheel rims, etc. This product is made of the most premium quality fabric which will not tear or shred when in contact with rougher surfaces.

» SITE CENTERS



» LINKS



» POWERED BY









CURRENT VEHICLE
Lexus