Blitz Audio 2-Way Electronic Crossover Network With Subwoofer Level Control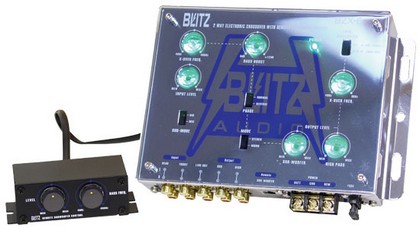 part# BZX6
Price: $60.26 / Each


Additional Info:
Description



Fits On:
All Vehicles (Universal)
About this Manufacturer:
Blitz Audio is a New York based aftermarket car audio firm that specializes in bringing the latest and greatest car audio and lighting components to the consumer market at very reasonable prices. Founded by real car audio enthusiasts the Blitz Audio team boasts great knowledge and customer service for their full product lineup. Every Blitz component has been carefully constructed and thoroughly tested before it reaches the customer's hands so you can be sure you are getting the best possible product whenever you purchase from Blitz Audio.
About this Product:
Chrome Plated Chassis
Clear Acrylic Protective Cover
Green Light Illumination
LED Power On Indicator
Front and Rear Inputs
Line Output for Crossover/Amp
Subwoofer and High Pass Outputs with Gain Controls
Slope Rate: 12dB/Octave
Bass Boost: 0dB-12dB
Sub Level and Bass Frequency (40-400Hz Variable) Remote Control
Adjustable Bass Boost Level Control
Adjustable Frequency Selector, Low: 40-400Hz/High: 40-8kHz
Sub-Mode Selector
Subwoofer Stereo/Mono Selector
Subwoofer Selectable Phase Shifter
Freq. Multiplier (x1/x10) on High Pass Output
Dimensions: 1.8"H x 8.3"W x 5.9"D

» SITE CENTERS



» LINKS



» POWERED BY









CURRENT VEHICLE
Lexus