Corolla Car Club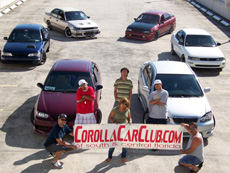 CorollaCarClub.com was officially formed on November 3, 2001. Our first official meet was held in Sawgrass Mills Mall in Sunrise, Florida. We have active members from Jacksonville, Daytona Beach, Orlando, Gainesville, Tampa, Port Saint Lucie, West Palm Beach, Ft Lauderdale, Miami and the surrounding areas.
We are a group of Corolla owners who are here to be involved, learn something new, make new friends and have fun! People always think that Corollas don't have potential for modifications but it's always nice to prove them wrong by showing them some of our cars. Also, it's nice to be cruising down the road and seldom see other "hooked up 'rollas". This way you know that you're unique.
We are the largest Corolla club in Florida and have a nationwide presence. Everyone is respectful of each other and are united to support the club's growth.
The CorollaCarClub.com welcomes all Corollas, anything from Old School rollas, Truenos, Geo Prizms and newer 'rollas from '84 to present. We also welcome our Toyota Matrix and Pontiac Vibe owners.
Since we believe that you have to start somewhere with your car, we accept members from bone stock all the way to fully modified cars. As long as you have a great attitude, we'd like to have you on board. Everyone is welcome in our club.
We often have regular monthly meetings and the locations vary each month. Since a lot of our members are based in Florida, most meetings are coordinated there. Our South Florida chapter has meetings in Miami, Fort Lauderdale, and areas as far as West Palm Beach. Our Central Florida chapter holds their meetings in the Orlando / Kissimmee area. If you are a member of Corolla Car Club and are located in a different area, feel free to set up a meeting with other members in your area!
We're a group of friends that own Toyota Corollas and are located across the USA. The club originally started within South, Central & North Florida. If you own a Toyota Corolla and are interested in joining our fast growing club. We'd like to have you on board with us!
AE86 Special For anyone who loves the Toyota Corolla AE86, watching this video is an hour well-spent. Although this video is without English subtitles, there is still plenty to learn just by watching the Drift King, Keiichi Tsuchiya, drive.
5.24.10 Corolla Car Club members now get a 10% discount on any products ordered at
Andy's Auto Sport
. They have a great selection of
Corolla Parts
and other
Toyota Parts
. Use this coupon code to get your member discount:
ROLLACAR
. Check out Andy's for
Corolla headlights
or
Corolla tail lights
!
5.15.10 Corolla Car Club welcomes Ground Dynamics as a recommended club supplier. They specialize in styling products for the Toyota Corolla. To check out their selection, go to this link:
Corolla Body Kits
11.01.08 Corolla Car Club will be celebrating its 7th Anniversary. Please click
HERE
for more info.
05.29.08 Hey guys! I am aware there haven't been any updates to the website.
The club is still active and we still meet regularly.
We discuss and schedule our meets in our forum at www.corollacarclub.com/forum - under each respective chapters.
Please register and join our community thru the
forum
.
We are always accepting new members.
You can join the club by sending an email to contact@authorityautonetwork.com or call me at (561) 767-6600.
Thank you. -Rick
06.29.07 The Central chapter will meet Saturday, July 21st, 2007! Click
HERE
for more info.
06.25.07 Picture gallery has been updated! I'm sorry for the long delay. Enjoy the pictures :)

09.02.06 Some of the members who are going to NOPI Nationals will also be driving up to Tail of the Dragon in the TN/NC area. We'll be there from Sept 17-19.

09.01.06 CorollaCarClub.com will be going to NOPI Nationals car show in Atlanta, GA from Sept 16-17.

06.20.06 The Central's BBQ was a success! We had lots of cars there as well as food. Thanks to everyone who came and helped making this a great event.


07.16.06 The first official meet for the newly formed North Chapter was a success! Thanks to those who came and good luck to the North chapter!

05.20.06 The Central chapter's Annual BBQ will be held on Sunday, June 18th! Please read the schedules page for more info. Hope to see you there!

05.18.06 Hot Import Nights Orlando will be on Saturday, July 8th. The Central chapter will be having a meet for the show. Find the HIN meet discussion in here.

05.15.06 The future North Florida chapter will meet on July 15th in Jacksonville. This is their very first meet so please come out and support them. Click here for more info.

05.10.06 The club t-shirts are ready to be distributed. Please contact me if you have placed an order.

04.25.06 February 11th, 2006 meeting pictures were added to the gallery.

04.24.06 January 29th, 2006 meeting pictures were added to the gallery.

04.23.06 January 21st, 2006 meeting pictures were added to the gallery.

04.22.06 January 14th, 2006 meeting pictures were added to the gallery.

04.21.06 December 10th, 2005 meeting pictures were added to the gallery.

04.20.06 November 19th, 2005 meeting pictures were added to the gallery.

04.19.06 November 5th, 2005 meeting pictures were added to the gallery.

04.18.06 October 15th, 2005 meeting pictures were added to the gallery.

04.17.06 October 1st, 2005 meeting pictures were added to the gallery.

04.16.06 September 25th, 2005 meeting pictures were added to the gallery.

04.15.06 September 17th, 2005 meeting pictures were added to the gallery.

04.14.06 September 17th, 2005 NOPI pictures were added to the gallery.

04.13.06 August 20th, 2005 meeting pictures were added to the gallery.

04.12.06 August 14th, 2005 meeting pictures were added to the gallery.

04.11.06 July 17th, 2005 meeting pictures were added to the gallery.

04.10.06 July 15th, 2005 meeting pictures were added to the gallery.

04.09.06 July 1st, 2005 meeting pictures were added to the gallery.

04.08.06 Excellent turn-outs at Old Town last night! I heard great amount of positive feedbacks from the crowds. Thanks to those who came and showed support for the club.

04.01.06 The Central Florida chapter will be the featured club at the Friday Night Old Town cruise in Kissimmee next Friday. Hope to see you guys there!

03.30.06 We had a great time in Daytona Spring Break! Pics will be posted soon.

03.01.06 The club will be going to Daytona Beach for the Spring Break 2006! This will be our 4th year going to this event. Go to our forum for more info.

02.15.06 CorollaCarClub.com would like to thank Jonathan, Dimas and the members of the Indonesian Great Corolla Club (GCC) for their nice hospitality during our president Rick Suy's recent visit to Indonesia. Pictures from the meet will be posted in our gallery.

01.05.06 The next South & Central Florida chapter meeting info have been posted. Go to our Schedules page for more info.

01.01.06 Happy New Year!! Stay safe and hope this year will be better than last year :)

12.25.05 We would like to wish a Merry Christmas to those of you who celebrate it. May God bless you and your family, always.

12.02.05 The club will be going to Hot Import Nights show at the Miami Beach Convention Center on Saturday, December 10th. Check out the Schedules page for more info.

11.24.05 CorollaCarClub.com would like to wish you and your family a Happy Thanksgiving!

11.20.05 Congratulations to our South Florida chapter member Miguel and his wife for their new baby boy, Anthony, who was born yesterday.

11.11.05 Congratulation to our South Florida chapter member Ken and his wife for their new baby girl, McKenzie, who was born yesterday.

11.03.05 Happy Birthday to us!! Today our club turns four years old.

10.27.05 The next South & Central Florida chapter meeting info have been posted. Go to our Schedules page for more info. Hope to see everyone there!

10.25.05 South Florida sustained a major damage from Hurricane Wilma. When you have the chance, please let us know how did you do on HERE.

10.23.05 Hurricane Wilma is expected to hit Florida between today and tomorrow. We wish you and your family will make it through safely.

10.17.05 Great turn-outs at the Ocala meet! A lot of older Toyota Corollas attended. Welcome to all of you new members! You can see pictures from this meet in the forum.

10.07.05 We'll be having a mini-meet in Ocala for a drift event. We will discuss on the possibility of starting up a North Florida chapter sometime next year.

10.04.05 Had a great time at Halloween Horror Nights :) Pictures are posted in the forum and soon will be in the gallery.

09.22.05 The club will be going to Halloween Horror Nights at the Universal Studios, Orlando on Sept 30th and Oct 1st.

09.20.05 We returned yesterday from NOPI Nationals. We had a great trip and took a lot of pictures. They will be posted in our gallery soon.

09.15.05 The club will be driving up to NOPI Nationals in Atlanta, GA. For more info, go to www.nopinationals.com

08.16.05 The South Florida chapter meet is this coming Saturday, August 20th. For more info, please check out our Schedules page.

08.15.05 The Central Florida chapter BBQ was a success! Thanks to everyone that came and special thanks to the people who helped out with the BBQ. We'd like to welcome our new members :)

07.25.05 The Central Florida chapter meeting info has been changed! We're meeting up earlier than originally planned so we can spend more time at the BBQ. Please check out our Schedules page for more info.

07.15.05 The Central Florida chapter meeting info has been posted.

07.04.05 We'd like to wish you all a happy and safe Fourth of July!

07.03.05 We're now up-to-date with our meeting pictures. Sorry for the delay and hope it was worth the wait :)

07.02.05 June 25th, 2005 meeting pictures were added to the gallery.

07.02.05 June 18th, 2005 meeting pictures were added to the gallery.

07.01.05 April 16th, 2005 meeting pictures were added to the gallery.

07.01.05 April 9th, 2005 meeting pictures were added to the gallery.

07.01.05 March 19th, 2005 meeting pictures were added to the gallery.

06.30.05 February 26th, 2005 meeting pictures were added to the gallery.

06.30.05 September 18th, 2004 meeting pictures were added to the gallery.

06.30.05 August 7th, 2004 meeting pictures were added to the gallery.

06.29.05 June 26th, 2004 meeting pictures were added to the gallery.

06.29.05 May 15th, 2004 meeting pictures were added to the gallery.

06.29.05 May 8th, 2004 meeting pictures were added to the gallery.

06.28.05 March 20th, 2004 meeting pictures were added to the gallery.

06.28.05 February 28th, 2004 meeting pictures were added to the gallery.

06.28.05 February 7th, 2004 meeting pictures were added to the gallery.

06.27.05 December 13th, 2003 meeting pictures were added to the gallery.

06.27.05 November 1st, 2003 meeting pictures were added to the gallery.

06.27.05 September 6th, 2003 meeting pictures were added to the gallery.

06.26.05 Both South & Central Florida chapters had a great successful meet for the month of June '05. We'd like to welcome all of our new members.

05.17.05 The South & Central Florida chapter meeting info have been posted. Go to our Schedules page for more info. Hope to see everyone there!

05.10.05 Congrats to our Central Florida chapter member Josh, who just proposed to his girlfriend to marry him and she said yes! Be sure to invite us to the wedding and good luck to you both! :)

04.01.05 Thanks to everyone who went with us to Daytona Spring Break. I'm sure I can safely say that we all had lots of fun there ;)

03.22.05 The next South & Central Florida meeting info have been posted. Check out our Schedules page for more info. Hope to see you there!

03.15.05 We're going to Daytona Beach for Spring Break from 03.18.05 til 03.20.05.

03.01.05 We had a successful Central Florida chapter meet. Welcome to all of our new members!

02.17.05 Our forum is live! I just activated the CorollaCarClub.com message board. Please click here to register and join our little forum :)

02.15.05 Thanks to everyone who attended the South Florida chapter meet this past Saturday. Good to see everyone again and welcome to all of our new members!

02.05.05 FloridaCarClubs.com has chosen our club to be this month's Featured Club of the Month.

01.29.05 I replied to all email inquiries, including the requests to join the club. If you haven't received any replies, please check your spam box.

01.15.05 Next South & Central Florida meeting info has been posted. Check out our Schedules page for more info. Hope to see you there!

01.10.05 CorollaCarClub.com is back! Please read the announcement page for more info.

07.19.04 Next South & Central Florida meeting info has been posted. Check out our Schedules page for more info. Hope to see you there!

07.10.04 The club will drive up to NOPI Nationals in Atlanta, GA on the weekend of September 18th & 19th. If you're interested in going with the club, please click here.

07.05.04 The next meeting info will be posted soon.

07.01.04 The Central Florida chapter meet went pretty well. Thanks to everyone for the attendance.

06.19.04 Schedules updated! The Central Florida chapter meets on June 26th in Orlando. Hope to see you there!

06.10.04 CorollaCarClub.com is back up!! Our old server was having problems and I had to move our site to a new one. (slowly but surely) I know it's been a long three months and sorry for any incovenience. We still held our meetings while the site was down. Hopefully this wouldn't happen again in the future.

03.01.04 Both South & Central Florida chapters will drive up to Daytona Beach for Spring Break '04 on March 19th til March 21st. The club has 4 rooms reserved for the weekend. Check out our Schedules page for more info and if you're interested in going with us.

02.29.04 Thanks for everyone who was there at the Central Florida meet. Great meet and good to see everyone there.

02.23.04 The updated Central Florida chapter meeting info on February 28th has been posted under Schedules. Hope to see you guys there!

02.20.04 The Central Florida chapter will have a meeting on Saturday, February 28th. More info will be posted in Schedules.

02.08.04 The South Florida meet had a great turn out. Thanks to everyone who participate and have a full showing at the CB Smith multi car clubs meet.

01.28.04 The South Florida chapter will meet on February 7th. There's a large joint meet event between all the local clubs and I'd like a full support from the club so we can have a good turn out. Check out the Schedules section for more info.

01.23.04 I was having some problem with my email account. If you sent me an email and I haven't response, please send me another one. I appologize for the incovenience.

01.21.04 It's been a while since we did anything. I know some of you have asked me for the info on the upcoming meets. I'm sorry for the long break but we'll get the club back on track again.

12.31.03 We would like to wish everyone & their family a Happy & Prosperous New Year! Keep it safe on the road.

12.25.03 We would like to wish everyone a Merry Christmas. God bless! Click HERE for a Christmas greeting from all of us.

12.19.03 We would like to wish our Jewish members and friends a Happy Hannukah! 12.19.03 - 12.27.03

12.10.03 Hey guys! Check out this cover story about our club! http://www.citylinkmagazine.com/coverstory.html Thanks to CityLink Magazine for their interest in our club and the great cover story!

12.09.03 I have a bad news for you guys. We won't have a joint meet on the 13th. Many of you emailed me telling me that week or the week after is the exam week for your school and unable to take the trip down to Miami. I decided to postponed this to another time .. perhaps Spring Break Nationals in Daytona ;) We will still going to have a meeting on the 13th for the South Florida members and to anyone else that wants to come, it's totally up to you!

12.08.03 Thanks to everyone that were able to meet up with me while I was in Tampa. It was nice cruising with you guys. And again thanks to Ender for allowing me to stay at his dorm while I was in Tampa.

12.03.03 I'm driving up to Tampa and will be there from 12.05.03 until 12.08.03. Call me at (561) 767-6600 if you'd like to meet up. I will be staying at the USF campus dorm.

11.26.03 We would like to wish you all a Happy Thanksgiving. Take a moment and think of all the great things we have in life and how fortunate we are. The club want to thank everyone for their continuing support to us so we could be where we are today!

11.18.03 The club would like to extend our condolences for the loss of SRTForums.com's member Andrew Chin Shue. Our prayers and thoughts goes out to his family and friends. Click here for more details.

11.15.03 The club is driving down to Miami for Hot Import Nights. We need help in finding good deals on hotel rooms. If anyone can get hook ups on deals on hotel rooms in Miami / Ft Lauderdale area, please email Rick at contact@authorityautonetwork.com

11.07.03 CITYLINK Magazine will be out there at the South Florida meeting. They are doing coverage of the club. Please look your best!

11.03.03 Happy 2nd Birthday to us! This marks our 2nd year together as a club.

11.01.03 Central Florida chapter's meet was a success! Hope we can do the same with the South Florida chapter meet on November 8th.

10.25.03 November meets info has been posted! The Central Florida chapter will have a meet on November 1st and the South Florida chapter will have a "Thanksgiving Party" meet on November 8th. Check out our Schedules page for more info.

10.24.03 Our Central Florida chapter leader Joab has changed his cell number. His new number is (407) 361-1464.

10.23.03 Sorry for the lack of updates to the site.

09.30.03 Hot Import Nights is coming up in December 13th. I want the club to be there and showing some of our cars. I will be calling some of you within the next week or so about the show.

09.29.03 CorollaCarClub.com have a new mailing address. Please send any mail correspondence to:
CorollaCarClub.com
PO Box 244494
Boynton Beach, Fl 33424-4494

You can still email us at contact@authorityautonetwork.com or phone (561) 767-6600

09.28.03 Our server was having some problem which unable me to access the site.

09.22.03 Miguel, Chris and I have returned home safely from NOPI Nationals Supershow in Atlanta, GA. I won 1st place trophy in my class =)

09.21.03 Another successful Central Florida meet! Thanks Joab and everyone who attended.

09.19.03 CorollaCarClub.com will represent at the NOPI Nationals in Atlanta, Georgia on Sept. 20th - 21st. Three cars will be in the show. Mine, Chris with the blue Matrix and Miguel with black 95 Toyota Corolla.
We will be in Brown M lot. Call me at (561) 767-6600 if you want to meet up.
On the way to NOPI, Miguel and I will be driving up with the Super Street/NOPI tour.

09.15.03 CorollaCarClub.com would like to say good bye to Joel Mercado from the South Florida chapter. He moved to Puerto Rico and back with his family. Good luck Joel and see you soon!

09.14.03 CorollaCarClub.com would like to say good bye to Josh from the Central Florida chapter. He moved to New Jersey with his family. Good luck Josh and see you soon!

09.13.03 Central Florida meet has been postponed! Joab had an emergency that came up that he had to take care of. It's being postponed until next Saturday, Sept 20th. I apologize for any incovenience.

09.12.03 Congratulations to our Central Florida member Harry and his girl Angel for their newborn junior.

09.11.03 Second year anniversary of the tragic 9-11. Please take a moment to remember victims and heroes who lost their lives.
Click HERE to see "September 11 - A Memorial" tribute.

09.02.03 Central Florida chapter meet for September 6th has been postponed to Saturday, September 13th at the same location & same time. Schedules page updated.

08.26.03 South & Central Florida chapters will have their meetings on September 6th. Check out the Schedules page for more info and hope to see you guys there!

08.19.03 Fixed broken link and added page 2,3,4 and 5 to January 19th, 2002 pics gallery.

08.15.03 June 14th, 2003 meeting pics added to pictures gallery.

08.14.03 May 25th, 2003 meeting pics added to pictures gallery.

08.13.03 April 26th, 2003 meeting pics added to pictures gallery.

08.12.03 February 22nd, 2003 meeting pics added to pictures gallery.

08.11.03 January 25th, 2003 meeting pics added to pictures gallery.

08.10.03 November 23rd, 2002 meeting pics added to pictures gallery.

08.09.03 October 20th, 2002 meeting pics added to pictures gallery.

08.08.03 September 28th, 2002 meeting pics added to pictures gallery.

08.07.03 August 31st, 2002 meeting pics added to pictures gallery.

08.06.03 June 2nd, 2002 meeting pics added to pictures gallery.

08.05.03 August meeting info for South and Central chapters will be posted soon.

08.04.03 I revised our members list. Removed the non-active members and added new ones. I also fixed any incomplete info.

08.03.03 I had moved from one place to another. Took sometimes for me to have DSL at the new place. I was unable to do any updates to the site.

07.20.03 Two of our members showed at Speed Life car show at the Convention Center in Orlando. It was mine and Jon's from Tampa.

07.13.03 Central Florida chapter July's meet was a success. Went to All Toyota Meet and had a nice party afterwards for my birthday ;)

07.10.03 Changed site banner and added picture of Juan's, Joel's, Edwin's and Alex's Toyota Corollas on the main page.

07.05.03 Central Florida chapter meeting info has been posted. Check it out under Schedules and hope to see you guys there!

07.04.03 Happy 4th of July guys! and have a safe weekend.

07.01.03 There will be an All Toyota Meet in Orlando on Saturday, July 12th. Central Florida chapter will have a meet for this event. Info will be posted soon

06.30.03 Our website was down for a few days due to a crashed server. I appologized for the incovenience.

06.16.03 Central Florida's HIN meet was a success! This was their second meet and we got more new members in the club. South Florida meeting is coming up on June 21st. See you guys there.

06.10.03 Both South and Central Florida meeting info are posted. Hope to see you guys at the meet. Click Schedules for more info.

06.03.03 We will post our June's meeting info soon. Central Florida will have their next meet in Orlando for Hot Import Nights on June 14th. South Florida will have their next meet on June 21st in Ft Lauderdale.

05.14.03 CorollaCarClub.com is going Central! Yup, you heard it right. Our Central Florida crew will be having their 1st Official meeting on May 25th. Check out our Schedules page for more info. Hope to see you out there!

05.10.03 Our club Prez' Rick has changed his cell number. His new number is (561) 767-6600. His email address is still contact@authorityautonetwork.com

04.02.03 Finally people the meet has come and the site is under heavy constructions.

02.10.03 News on the upcoming meet to Bloodrag, check it out and make it a more meaningful meet.

01.15.03 Just added a couple of new links , and fixed minor things on the site nothing major. Enjoy laterz

01.07.03 FINALLY, some new news. Car meet coming soon check the meeting section . Also minor changes to the site , expect more to come soon. Thats all I got for now laterz

12.12.02 Yooo,We have come to the end of the year and probably the last meet that we will have, If you haven't yet met up with the club this is a great opportunity. Please check it out. Laterz


11.20.02 ATTENTION PEOPLE!! There have ben changes to the meeting location please make sure that you check it out! if any questions call Rick. Laterz

11.04.02 Well people, more info on oncoming meetings is up make sure u check one of these out. The last one rocked and I feel sorry for those that missed one of the best shows ever!. Well here's another chance to hang out with fellow toyota corolla owners and represent your rides. Make sure to check out the meeting section, and oh yea make sure to bug Rick about the pics , he's the one that has them .. once he gives them to me they will be up and we will be able to open the members page ;)

10.06.02 Well with the end of the Year coming fast that also means the end of the Hot Import Nights tour end here in Florida. If you have been looking for a good show all year dont look any further and stop by HIN. Check out the meeting sections for more information. Have fun ....laterz

09.27.02 Now we are really behind on the pictures for the meetings, but you can blame rick for that lol. But on other news another meetings are heading your way. Be sure to check it out. Have fun.

08.17.02 Well everyone , im still waiting for the pictures from the last show from rick so we are behind in that matter also awaiting the separate member pics so we can get the whole crew online. Well other than that the info for the next meet is up, so make sure you check that out.

07.22.02 Well everyone , pictures from the last show still havent come foward to me, but info of a upcoming meet was added. Soon enough the pics will be in nd member page to come after that. Laterz

06.16.02 Well everyone , make sure you check out the plans to our next meet scheduled this month. Im also uploaded the images from the last show, so make sure you check those out.Laterz

05.09.02 Well everyone from lack of images and reasons to update we haven't in a while. Well I do apologize but soon enough the site will be well on it's way. More pics are coming in and the members page is beign planned out. If you want your toyota corolla added the page , just email Rick with the pics and a descriptions of the mods. Enjoy

03.21.02 We got the whole site up. We are currently working on getting up the image galleries, and uploading them all. Be sure to check out the Schedules page, with the up coming meeting date, and address. Thats all for today, be sure to check out the news Laterz

03.20.02 Working on broken links and all mess ups on the site. That's all for now check back for more updates.





For anyone who loves the Toyota Corolla AE86, watching this video is an hour well-spent. Although this video is without English subtitles, there is still plenty to learn just by watching the Drift King, Keiichi Tsuchiya, drive. His skills behind the wheel are impressive to just about anyone and his enthusiasm while driving is infectious.

If just for the love of motorsport, this video is a great source of enjoyment, and the aspiring racer has a lot to learn here.





** HIT REFRESH TO MAKE SURE YOU ARE READING THE LATEST MEETING INFO **


CorollaCarClub.com
Central Florida Chapter
July 2007 - Joint meet with 9thgencorolla.com

What's up guys!

The next Central Florida Chapter meet will be on Saturday, July 21st.

We will meet at McDonald's at 10 A.M. From there, we're going to cruise to a nearby park to meet the guys from 9thgencorolla.com.

McDonald's
7344 Sand Lake Rd
Doctor Phillips, Fl 32819

From Tampa:
On I-4, exit 74a, Turn Left at the light. The McDonalds is on the left hand side. Its no more than a mile down the road.

From Daytona/Turnpike:
On I-4, exit 74a, Turn Right at the light. The McDonalds is on the left hand side. Its no more than a mile down the road.

We're going to hang out at the park for a few hours then we're going to WingHouse for lunch. We're also going to discuss our plan for the September trip to the Tail of the Dragon in North Carolina. Click HERE for the current discussions on TOTD.

Everyone is welcome to attend.

Read and post in our forum about this meet HERE.
Please register if you haven't already done so.

Call me at (561) 767-6600 or email me at contact@authorityautonetwork.com if you have any questions.

Hope to see you guys there!

Rick Suy
CorollaCarClub.com
Florida

PS: If you're a new member and need CorollaCarClub.com decals, please let me know by at least one week prior to the meet.





Hey guys What's going on? I'm sure you've all wondered and asked yourself "what happened to the club?" Most of you have called and asked me the same exact question. Well, the answer would be "we're taking a short break with the club." Unfortunatelly, that short break turned out to be a long break. I'm sure you have noticed that we haven't had any meetings since our trip to Nopi Nationals in Atlanta, GA. That's about four months ago. The real answer is, I've been really busy with my personal life. I'm sure you've heard of this excuse before. Well, before I've always seemed to be able to cope with the overbearing stress, and moved on. I wish it was the same way again. Also, I thought of quitting the club altogether. However, I shared that idea with a few of you, and I received negative feedbacks concerning this. After this long break, I've decided to go ahead and continue with the club. I have also asked two of our long-time members to help me with running the club. Actually, they both have volunteered their time to help. Congrats to Cesar Vargas and Rick Osborne for their new positions as Vice President of CorollaCarClub.com. Cesar will help run the South Florida chapter while Rick will help with the Central Florida chapter. Because of the long break, we have lost many of our club members as well. Some of them have moved on and joined different clubs. A couple of members were involved in serious car accidents and some have decided they want to go the solo route. As far as I know, we're still in good terms with them. On behalf of the club, I'd like to wish them the best of luck. Please support the club, as we're now starting from scratch and hope we can be rebuild our club back to where it used to be. With everything said, welcome back to CorollaCarClub.com! Rick Suy South & Central Florida CorollaCarClub.com



CorollaCarClub.com
Special Event
NOPI Nationals 2004

Sup guys!

It's that time of the year again!
NOPI Nationals 2004 is only few months away.
It's scheduled for September 18th & 19th.

NOPI Nationals is the biggest car show in the world with over 5000 cars in the show.
It's a 2-days show and will be held in Atlanta Motorsports Speedway in Atlanta, GA.
This year is the second year the club will participate in the show.

To learn more about the show, go to www.nopinationals.com

On the way to NOPI, we will be going along the Super Street NOPI Tour.
We'll join couple hundreds of hooked up cars on the road to NOPI.
There's no fee for to participate in the tour.

We'll leave EARLY Friday morning 09/17/04 so we can be in Daytona Beach by 730AM.
We will join the Super Street tour from there and follow the tour routes to Atlanta, GA.
We'll be in Atlanta by Friday evening.

After we checked in with the hotel, the club will cruise to downtown Atlanta for dinner.
And we'll check out the Atlanta car scenes as well.

On Saturday, we will leave EARLY to go to the speedway for the car show.
In the past two years I've gone, I learned that traffic is terrible on the way to the show.
We always ended up stuck in traffic for 3+ hours.
Once we get to the show and parked together, it's up to you what you want to do and where
you want to go in the show.

After the show on Saturday, we are going to meet up with other Corolla clubs and have a little Corolla meet.

We will be back Sunday morning for the second day of the show and awards ceremony.

We will leave the show around 6pm on Sunday to head back home.
We all should be back in town by early AM on Monday 09/20/04.

Hotel Info:
I have reserved 3 rooms at one of the official NOPI hotels.
It's $150 per room for both nights.
We'll have 4 members per room so it should be about $40/person.

The show registration is $70.
It comes with two 2-days pass ... one for you and the other pass for whoever you're going with.
Make sure you select CorollaCarClub.com on the car club list and select lot "YELLOW L"
when you select your parking section.

If you have any questions, please email me at contact@authorityautonetwork.com or call me at (561) 767-6600.

Please let me know if you're going and registered on the show.
I will also order club t-shirts for everyone so we can wear them at the show.

Thanks and hope to see you guys there!

Rick Suy
CorollaCarClub.com
South & Central Florida