Ford Buyer's Guide
BUMPERS
Hannemann Fiberglass Inc.
Fiberglass Front Bumper
Take some weight off the front end of your Ranger with this Hannemann Fiberglass front
bumper
, which will provide you with improved handling and fuel economy.
Hannemann Fiberglass
is an industry leader and certainly knows what they're doing when it comes to fiberglass
parts for your Ford
. This
part
is also available for the
Ford F-150
! Check out their selection of truck
accessories
at Andy's Auto Sport.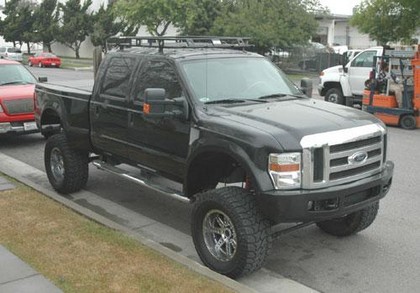 BODY KITS
VIS Racing
Cobra R Front Bumper
This attractive front
bumper
is styled to resemble the one seen on the limited-edition Cobra R. This piece builds on the boxy Mustang's looks rather that diverting in style, which ultimately provides a cohesive look that adds a certain degree of sportiness while still looking OEM. With an extended front
bumper
and larger intakes,
this kit
will help your Mustang look and feel more at home while on track. Add some definitive performance looks without spending as much as you would with a full
body kit
. Available from trusted retailers Andy's Auto Sport for a very reasonable price of $152.15.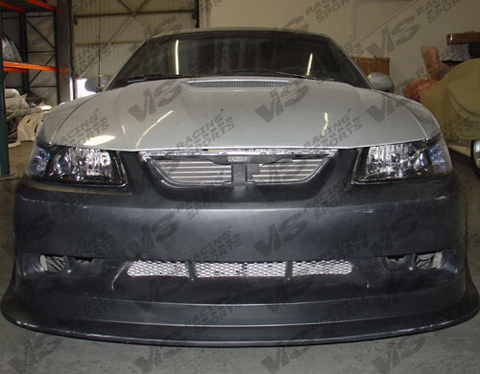 HEADERS
JBA
Ceramic-Coated Headers
These fine aftermarket
headers
are sure to add that distinctive grumble to your exhaust, add power and improve throttle response. Ceramic-coated to minimize heat and resist warping,
these stainless steel headers
are ready to stand up against hard driving and high-revving. Installation is easy with the JBL headers and their improved flow helps maximize any gains from ported heads - so it's not surprising these are some of the more popular aftermarket Mustang
auto parts
around. Available from Andy's Auto Sport for a reasonable $766.19 a pair, you're sure to see and feel the improvement from the minute these are installed on your Mach 1.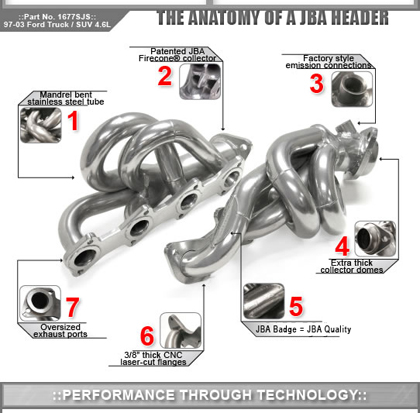 WHEELS
AMERICAN RACING
Torq Thrust
American Racing's line of
wheels
is extremely popular amongst hot-rodders because of their durable build quality, their diversity of style and their reasonable pricing.
The Torq Thrust
, one of the classic models brought on by this company, feature a timeless 5-spoke design, a pronounced lip and simple, but aggressive looks, making these
wheels for your Ford
an eye-catcher, regardless of what brand of car they adorn, be it a
Ford
or a Dodge. These awesome
rims
are available through Andy's Auto Sport at a starting price of $160.64 a piece.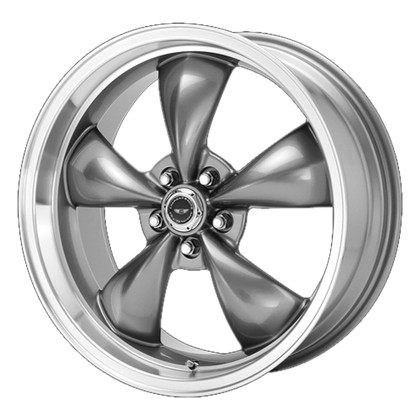 PERFORMANCE EXHAUST SYSTEMS
SLP
Powerflo Exhaust
SLP's innovate Powerflo
exhaust system
uses their modular technology to facilitate reconfiguration and improve adaptability. By simply loosening band clamps at attaching
the new exhaust
component, the process is complete. What this means is that if the included Powerflo mufflers aren't exciting enough for you, the addition of SLP's insane Loud Mouth mufflers is only a tightening of a band clamp away. This awesome
part for your Ford
is available at Andy's Auto Sport for a reasonable $519.35.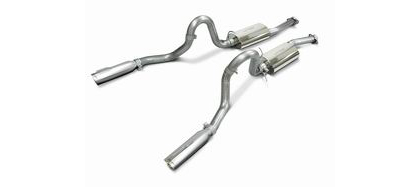 SEATS
OMP
ARS
The OMP ARS is a purpose-made
racing seat
designed to deliver the highest level of performance for a reasonable affordable price, making them some of the more popular aftermarket
auto parts
around. With a lightweight fiberglass backing and minimal cushioning (comes with removable seat, back and leg cushions), its intent is pretty clear from the get go.
This seat
is supposed to help an ambitious driver better feel the movements of his Mach 1, especially with circuit driving. This seat not only reduces weight improves crash safety - it's outfitted for a proper 5-point racing harness. Best of all is that this high-quality seat - OMP is one of the premier racing apparel manufacturers in the world - comes at a relatively cheap price, $699.00 via
Andy's Auto Sport
.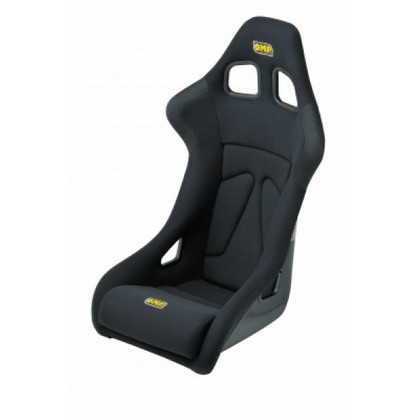 HOODS
VIS Racing
GT500-Style Carbon Hood
This lightweight addition not only adds some aggressive looks, but improves performance as well. With the large intake sitting proudly in the middle of the
hood
, improved air circulation helps keep temperatures at a reasonable rate, which are of prime importance when tracking or racing your Mach 1. Reduced weight means the nose-heavy Mustang's tendency to over-work the front tires is diminished. Available at Andy's Auto Sport,
this carbon hood
offers trick looks without attracting the wrong kind of attention, and it only costs $1,124.20.