Welcome to the Cadillac Fleetwood Lambo Doors Center at Andy's Auto Sport!
At Andy's Auto Sport, we have a huge variety of lambo doors to give you all the options you want. Our store is full of bolt-on Cadillac Fleetwood lambo doors and universal lambo doors, so take a look at our fantastic selection. Whether you are looking for specialty bolt-on Cadillac Fleetwood lambo doors or cheap Cadillac Fleetwood lambo doors or anything in between, we've got great choices for you. Andy's Auto Sport is the ultimate shopping destination for your Cadillac Fleetwood lambo door kit needs!
» CHOOSE YOUR MODEL



» NEWS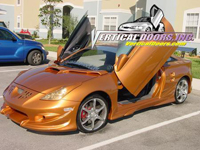 Right now we have a special offer on any lambo doors made by Vertical Doors Inc. You can get $250 off at the checkout, on the spot, if you use this coupon code:

VERTANDY

Type it just like that, all capital letters, and you'll get $250 knocked right off the price of the kit! It is not a mail-in rebate; this is a coupon to instantly take $250 off the price you you see on the site for any Vertical Doors Inc. lambo doors we sell. Enjoy!
If you want to find an Andy's coupon code to use to buy your Cadillac Fleetwood Lambo Doors, then go to
our Facebook page
and click the "Like" button at the top!
» DID YOU KNOW?



There are two main types of lambo doors: bolt on lambo doors and universal lambo doors. Bolt-on kits are specifically engineered for the given Fleetwood vehicle application, and universal kits are not. Therefore. 1) Bolt-on lambo doors are generally more expensive than universal lambo doors, but they are much less difficult to install relative to universal lambo doors, and 2) Bolt-on lambo doors are not available for every vehicle out there since each one requires so much engineering work. If you ever need help learning how to install Fleetwood lambo doors, call us at 1-800-419-1152. Also, if need be, you can buy individual lambo door parts, such as just the Fleetwood lambo door shocks.
» SITE CENTERS



» LINKS



» POWERED BY