Master Appliance Butane Powered, Self Igniting, Pocket Sized Microtorch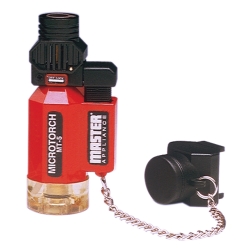 Description



Fits On:
Universal (All Vehicles)
About this Product:
Features and Benefits:

• - ;Compact, fits easily into pocket or tool kit
•Quick starting self-igniting piezo electric ignition eliminates the need for lighters and matches
•Wind resistant flame that resists moisture and is perfect for outdoor use, such as camping and biking
•Adjustable flame height for temperature up to 2500 degrees F/1300 degrees C blue flame
•Run time: 20 minutes at maximum setting

Safety lock and attached safety cap prevent unintentional ignition. Meets Consumer Products Safety Commission Requirements. Great for glass repair, shrink tubing, solder and desolder, terminates specialty connectors, or to light cigarettes and cigars.

» SITE CENTERS



» LINKS



» POWERED BY









CURRENT VEHICLE
GMC