Eneos Fluids - 1 Quart Oil (5W40)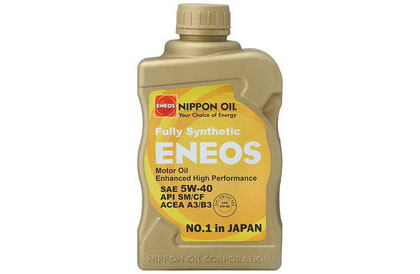 Description



Product Videos
In this episode, we interviewed Sam Hubinette who is a champion drifter and auto crosser. He's sponsored by Eneos Motor Oil, and we sat down and talked with him about the Eneos product as well as about his endeavors as a racer. Some highlights:

*At 2:50 he explains how he likes running Eneos oil in his race cars.

*At 3:30 he talked about his experiences at Global Rally Cross.
Fits On:
Universal - Fits all Vehicles
About this Manufacturer:
ENEOS high performance synthetic engine oils and transmission fluids are made by Nippon Oil, a leading Japanese petroleum manufacturer known for its quality and involvement in motorsports. In fact, ENEOS products are used in both NASCAR and drifting competition, so we know they're able to withstand the rigors of day-to-day driving, as well as weekend racing. With new bottles that use about 30-percent less plastic than older ENEOS bottles, each ENEOS purchase also helps contribute less waste to the environment, which puts our minds at ease when we're mashing the pedal on the track!
About this Product:
ENEOS Motor Oil 5W40 is a high-performance motor oil for gasoline engines that meets the latest SM standard of the American Petroleum Institute (API). It also meets the standards of the European Automobile Manufacturers Association (ACEA), so it is especially suitable for European cars. It meets the API CF standard as well, so it can be used in passenger cars and small trucks with diesel engines.

» SITE CENTERS



» LINKS



» POWERED BY









CURRENT VEHICLE
GMC