Power Probe 6-24 Volt Tester With 19' Cable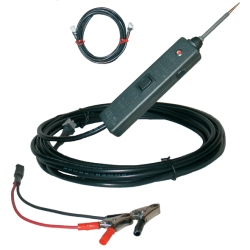 Description



Fits On:
Universal (All Vehicles)
About this Product:
Features and Benefits:

•19 ft. cable, red/green led polarity lite - ability to energize circuits- short circuit protected- Self test feature
•1 Year Warranty

When you connect your Power Probe to the car battery you will have a multitude of testers at your fingertips. With the press of a switch you'll have an instant hot lead or ground lead. Use the probe tip and ground lead simultaneously to power up components right in your hand. Instantly check components for continuity as well as identify positive, negative and open circuits without re-polarizing hook up clips. Locate shorts without wasting fuses.

» SITE CENTERS



» LINKS



» POWERED BY









CURRENT VEHICLE
GMC