Pirelli Eufori@ Run Flat 275/35R19XL100W RF B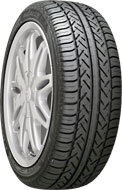 Description



Fits On:
Universal
About this Manufacturer:
Pirelli has long been the go-to brand for high performance tires. Their history dates back well over a century to 1872 when Giovanni Battista Pirelli began producing rubber products. Not long after, Pirelli began making some of the earliest tires for bicycles and automobiles alike. As early as the 1920's Pirelli had already become a legend in racing tires with some of the top name driver's in history such as Fangio and Ascari, bringing home numerous trophies on Pirelli tires. Now in the modern era Pirelli tires are still known for their outstanding performance and durability. In fact they sponsor a host of racing events all over the globe and are currently the sole tire supplier for Formula One. The legendary Italian company continues to develop and innovative new designs and push the performance tire industry in new directions. With a large presence on every major continent, Pirelli is truly at the front of the pack in the tire world.
About this Product:
Pirelli Eufori@ Run Flat

Treadwear: 180
Traction: A
Temperature: A
Speed Rating: Z


About the Eufori@ Run Flat
Pirelli Eufori@


Produced utilizing revolutionary MIRS (Modular Integrated Robotized System) technology, Eufori@ is Pirelli's first run-flat product, ensuring both Active and Passive safety.

Active safety
Secure dry and wet handling, braking efficiency and resistance to aquaplaning. The vehicle can be driven in total safety even following a sudden loss of pressure. Handling and steering precision are maintained.

Passive safety
Extended mobility, even when a puncture occurs: at zero pressure the vehicle is not immobilized and the driver can rely on a run-flat range of up to 150 km (93 miles) at 80 km/h (50 mph). Eufori@ Run Flat is specifically designed as Original Equipment for medium/high powered cars and offers high performance in total safety.





» SITE CENTERS



» LINKS



» POWERED BY









CURRENT VEHICLE
Ford