Badger Air Brush The Patriot 105 Airbrush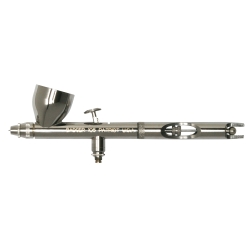 Description



Fits On:
Universal (All Vehicles)
About this Manufacturer:
For forty five years, Badger has aimed high in terms of customer service, quality and good value. Their hand-crafted products are held to the strictest industry standards. Their desire to innovate manifests itself in their unique compositions and designs, and through years of experience, the Badger network allows for quick repairs and delivery of replacement parts. Badger will not rest on their laurels, and continue to improve their products day-in and day-out, so that they remain the best in the business.
About this Product:
Features and Benefits:

•New acute tapered color well for faster cleaning
•Maximum angle trigger clearance and stroke
•Patented " Easy Access" needle removal system
•Easy maintenance self-centering nozzle design
•Parts interchangeability with 155, 200, 360

Patriot Airbrush dual action, internal mix, gravity feed airbrush has a single needle and single tip configuration so no part changes are required. It has a 1/3 oz. permanently mounted color cup with cap. The Patriot is a low maintenance airbrush, easy to clean and simple to change colors ans will spray any properly reduced paint or airbrush-ready media. Designed to deliver precise performance and fine line detail, it is ideal for all types of custom art, graphic arts and illustrative work. This airbrush will operate at lower pressure settings, 10-15PSI, and is ergonomically balanced for hours of comfortable airbrushing. Extra needle and tip in sturdy plastic hinged storage case.

» SITE CENTERS



» LINKS



» POWERED BY









CURRENT VEHICLE
Ford