Aero "Suds" Exterior Soap (16 Oz)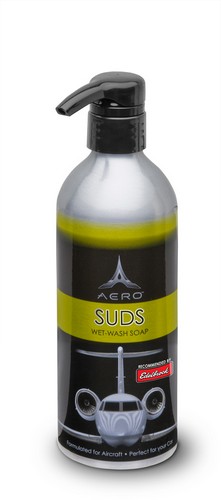 Description



Fits On:
All Cars (Universal)
About this Manufacturer:
Would you trust a line of products that was originally designed to protect jets from the extreme conditions that they endure on a constant basis? International AERO Products is just that, and has grown from a small one-man show to eventually becoming one of the largest airplane detailers in the world. With a collection of products designed to keep your ride looking new from top to bottom, International AERO Products is one of the best-kept secrets in automotive detailing.
About this Product:
SUDS 16oz.:
Exterior Soap has been speciallyformulated to powerfully clean your car as it protects your wax finish. With harsh chemical and stripping agents, most soap can cause damage to your automobile. Sure they may be easy to use, but along with removing dirt, they also remove your finish and protective coatings. That is why SUDS is the perfect balance of shielding your wax and protective coatings, while also removing unsightly dirt and road grime. SUDS, the ultimate soap that helps to keep a shine on your paint without harsh stripping agents that can damage surfaces, is environmentally friendly and biodegradable. With SUDS you do not have to worry about water spots or causing "spider web" marks in your paint finish because of its revolutionary lubricating agents to remove the dirt.

Features:
• Suds
• Exterior Soap;• Super-Sudsy
• Resists water-spotting
• pH Balanced
• Will not strip wax
• Powerful cleaning formula
• Bio degradable and eco-friendly
• Recommended by Vic Edelbrock Jr.

Directions for use: The ultimate washing soap that helps to keep a shine on your paint without harsh stripping agents that can damage surfaces. Mix 2-3 ounces of SUDS soap per gallon of water for light to general cleaning, 4 to 5 ounces of SUDS for heavy cleaning. Use a soft towel, was mitt or soft brush that is soaked with soapy mixture and wipe on surface with a light scrubbing motion. Keep surface wet at all times, rinse well to remove all soap & dry surface with a soft cotton towel or micro fiber cloth. Test on a small inconspicuous spot first to check for any issues.

» SITE CENTERS



» LINKS



» POWERED BY









CURRENT VEHICLE
Ford