HushMat 12"x23" Ultra Insulating/Damping Material Cargo Kit - 16 Piece (Silver Foil)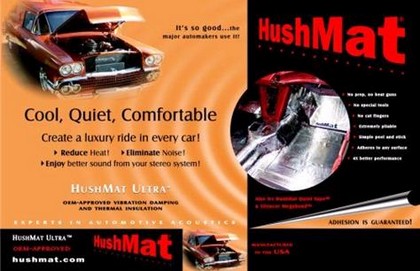 Description



Fits On:
All Vehicles (Universal)
About this Manufacturer:
Nobody likes a loud car, unless of course you're talking about the rumble of your exhaust or the sound of your speakers. To a car enthusiast, things such as road noise and vibration can take away from the driving experience, which is why HushMat was created. The company actually got its start by providing sound damping materials to General Motors, and then eventually to every manufacturer in the United States, Mexico, and Canada. Eventually, HushMat began to offer its OEM-approved insulation to the public, where is has enjoyed even more success. Hot rod and custom car builders worldwide now use HushMat to reduce the effects of road noise and vibrations, as well as to insulate car interiors from excessive heat. If your car could use a little peace and quiet, we think HushMat could be the ticket.
About this Product:
HushMat Ultra Silver Foil Cargo Kit with Damping Pad is designed to reduce road noise and vibration. This cargo kit is proven to lower thermal transfer by over 40 percent. It includes 10 self adhesive damping pads. This cargo kit offers excellent adhesion for many difficult to –bond-to substrates. It can be applied to floor from firewall to rear deck. This cargo kit features self adhesive peel and stick application. It facilitates easy installation and requires no tools for the same. This cargo kit withstands temperature from minus 30 degree Fahrenheit to 400 degree Fahrenheit.

» SITE CENTERS



» LINKS



» POWERED BY









CURRENT VEHICLE
Ford