CPS Products Premium Compact 4 CFM 1 Stage Vacuum Pump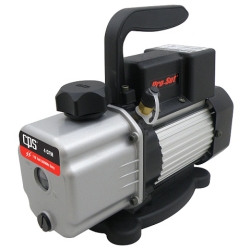 Description



Fits On:
Universal (All Vehicles)
About this Product:
Features and Benefits:

•Ultra compact design 11" long, 5" wide; 11 Lbs. 2 year warranty
•Oil mist preventor cap with extra large sightglass
•4 CFM single stage 1/4 hp @ 115 volts
•!/4" SAE and 1/2" ACME fitting
•High performance deep vacuum cartridge to help speed evacuation gives up to 75 microns ratings

This high quality vacuum pump is engineered to provide professional grade performance in a non traditional ultra-compact footprint. Performance enhancing features include an innovative oil mist preventor cap, extra large oil sightglass and drain plug and high performance deep vacuum cartridge design that delivers ultimate vacuum ratings of 75 microns. All metal construction with high impact plastic and rubber base and handle.

» SITE CENTERS



» LINKS



» POWERED BY









CURRENT VEHICLE
Ford