Lanzar Max Pro 4000 Watt 2 Channel High Power Mosfet Amplifier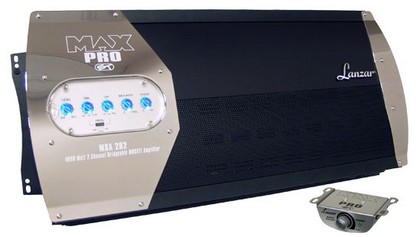 part# MXA282
Price: $164.77 / Each


Additional Info:
Description



Fits On:
All Vehicles (Universal)
About this Manufacturer:
Lanzar is a Brooklyn, NY based car audio company that has been in the game for several decades. Their mission is to offer great customer service and top-notch car audio components without compromise. Lanzar utilizes several demonstration vehicles to showcase their products and they have a nice trophy case to show how their gear stacks up in competition. With a product range that covers the entire car audio spectrum Lanzar works hard to keep their products affordable for the budget conscious consumer who still demands high-quality sound.
About this Product:
2 x 1000 Watts RMS at 4 Ohms
2 x 2000 Watts Max at 4 Ohms
1 x 4000 Watts Max at 4 Ohms Bridged
2 x 1650 Watts at 2 Ohms RMS
Electronic Crossover Network
Bass Boost Circuit
Variable Phase Shift Control
2 Ohms Stereo Stable
Anti-Thump Turn-On
Soft Turn On/Off
High Low Level Inputs
Blue Light Illuminated Crossover Control
Power Protection LED Indicators
Advanced Protection Circuitry
Bass Boost Remote Control
T.H.D: <0.04%
S/N Ratio: >90dB
Channel Separation:65dB
Frequency Response:15Hz- 35kHz
Dimensions: 10.47"W x 2.46"H x 21"L

» SITE CENTERS



» LINKS



» POWERED BY









CURRENT VEHICLE
Ford