Dunlop SP Sport 5000 DSST Run Flat 245/40ZR18LEX RF 93W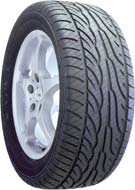 Description



Fits On:
Universal
About this Manufacturer:
Dunlop is the father of the modern tire as we know it. Their history dates back to 1888 when John Boyd Dunlop developed the first useable pneumatic tire after watching his son struggle to ride his tricycle on solid rubber tires. This invention spearheaded an industry that eventually evolved into the high-performance tires we see today. Dunlop has also become a name that is synonymous with racing. The Dunlop banner is flown at race tracks all over the world and they have a huge trophy case to prove their dominance in motorsports. Although well known as a British tire brand, Dunlop is now owned by tire giant Goodyear and has a substantial presence in North America thanks to Goodyear's massive headquarters in Akron, Ohio. The brand continues to represent performance and quality, and although it may cost a bit extra, most people find Dunlop tires to be worth the investment.
About this Product:
Dunlop SP Sport 5000 DSST Run Flat

Treadwear: 280
Traction: A
Temperature: A
Speed Rating: Z


About the SP Sport 5000 DSST Run Flat
Dunlop Self-Supporting Technology (DSST®)
Dunlop Self-Supporting Technology incorporates special reinforcements into the tire sidewalls so that driving may continue for up to 50 miles at speeds up to 55 mph, even after a complete loss of air pressure.

One of the best ultra high performance values available today, the Sport 5000 brings crisp handling and excellent traction to the performance enthusiast year round on wet, dry and snowy roads.

- Symmetrical tread design utilizes large shoulder blocks, independent inner blocks and open shoulder grooves for balanced wet and dry traction.

- Four large circumferential grooves quickly evacuate water and reist hydroplaning.

- Full-face, cross-cut siping provides multiple biting edges for geater wet grip and All-Season traction.




» SITE CENTERS



» LINKS



» POWERED BY









CURRENT VEHICLE
Ford