Dunlop Quadmax Sport ATV AT21-7R-10 6PLY B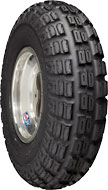 Description



Fits On:
Universal
About this Manufacturer:
Dunlop is the father of the modern tire as we know it. Their history dates back to 1888 when John Boyd Dunlop developed the first useable pneumatic tire after watching his son struggle to ride his tricycle on solid rubber tires. This invention spearheaded an industry that eventually evolved into the high-performance tires we see today. Dunlop has also become a name that is synonymous with racing. The Dunlop banner is flown at race tracks all over the world and they have a huge trophy case to prove their dominance in motorsports. Although well known as a British tire brand, Dunlop is now owned by tire giant Goodyear and has a substantial presence in North America thanks to Goodyear's massive headquarters in Akron, Ohio. The brand continues to represent performance and quality, and although it may cost a bit extra, most people find Dunlop tires to be worth the investment.
About this Product:
Dunlop Quadmax Sport ATV

Treadwear: N/A
Traction:
Temperature:
Speed Rating: R


About the Quadmax Sport ATV
With the Quadmax Sport (KT381, KT385), Dunlop now offers ATV enthusiasts racing-level performance in an innovative replacement radial tire designed to tackle ultra-tough conditions.

- Radial design utilizes two nylon carcass plies and two nylon tread belts for maximum stability and minimum tire growth and distortion.

- Radial front and rear tire construction allows all four tires to function together as one dynamic system for optimum handling.

- Front tire has a unique double-center rib design, which provides excellent traction in all types of cornering and camber situations.

- Rear tire has a feature not seen on any other ATV sport radial: an asymmetric tread design with optimized block-pattern density for maximum side and forward traction.

- Dual-compound construction features one compound for the tread and another for the sidewalls, resulting in optimum flex for bump absorption, cornering, and traction.

- Tread pattern designed for optimum tread wear and tread-block stability and integrity.

- Low-profile rear tire maintains a uniform contact patch and allows the ATV to stay low to the ground for maximum cornering speed.




» SITE CENTERS



» LINKS



» POWERED BY









CURRENT VEHICLE
Ford