Assenmacher Oil Cooler Liner Remover Tool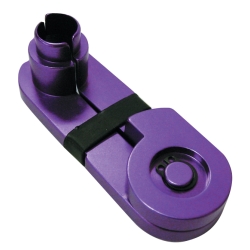 Description



Fits On:
Universal (All Vehicles)
About this Manufacturer:
This Boulder, Colorado-based company has been producing high-quality tools since 1978. With decades of industry experience, Gerhard Assenmacher has been out developing working relationships with his clients, and the confidence he has in his products solidify those bonds. Assemacher's number-one priority is great technical support for their clients, and they provide great warranties on their entire product line.
About this Product:
Features and Benefits:

•Used to disconnect transmission oil cooler lines
•Purple anodized aluminum construction
•Quick line removal
•Will clear the flare and disconnect the new style clips

Applications: 2003 and 2004 Ford Explorer (V8), 2004 Ford F150, and 2004 Cadillac CS.The flares on the the cooler lines near the fittings prevent access with the original style disconnect tools. The locking clip used in the fitting is different than the standard 'tabs' used on most other applications. The ASS8021 will clear the flare and disconnect the new style clips with ease.

» SITE CENTERS



» LINKS



» POWERED BY









CURRENT VEHICLE
Ford